Home /
Texas Tech University System Regents Name Tedd L. Mitchell as Sole Finalist for Chancellor
Texas Tech University System Regents Name Tedd L. Mitchell as Sole Finalist for Chancellor
Dr. Mitchell has served as interim chancellor since Sept. 1; he will remain president of TTUHSC.
October 4, 2018 | Contact: Brett Ashworth
The Texas Tech University System Board of Regents today (Oct. 4) announced Dr. Tedd L. Mitchell as the sole finalist for the position of chancellor at a regular scheduled meeting.
Mitchell became president of Texas Tech University Health Sciences Center on May 17, 2010 and is the university's longest-tenured president. During his tenure, TTUHSC has grown to graduate more health care professionals than any other health-related institution in the state.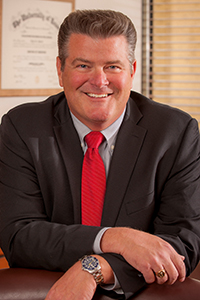 Dr. Tedd L. Mitchell

Mitchell was appointed interim chancellor on Aug. 20 and assumed his duties on Sept. 1.
"I am grateful to the Board of Regents for entrusting me with the opportunity to lead this university system and our outstanding institutions,"' Mitchell said. "Our team of faculty and staff across the system is first rate, and I am honored to work with them as we move forward toward our impactful initiatives and continue to educate leaders and difference-makers while providing life-changing, innovative health care. I look forward to what we can accomplish together."
State law requires 21 days must pass before final action can be taken by the Board of Regents on employment once a sole finalist has been named. Mitchell's start date as chancellor is expected to be Oct. 25. He will continue to serve as president of TTUHSC.
Prior to coming to TTUHSC, Mitchell served as president and chief executive officer of the Cooper Clinic in Dallas, an internationally recognized center of excellence in preventive and sports medicine.
Mitchell is an Ashbel Smith Distinguished Alumnus of the University of Texas Medical Branch, where he received his Doctor of Medicine degree in 1987. After graduation he pursued training in Internal Medicine. In 2012, Mitchell was honored as a distinguished alumnus of the Department of Internal Medicine. He is a Fellow of the American College of Physicians and the American College of Sports Medicine. From 1988 to 1996, he served as a captain in the U.S. Army Reserves (Medical Corps).
About the Texas Tech University System
Established in 1996, the Texas Tech University System is one of the top public university systems in the state of Texas and nation, consisting of four universities—Texas Tech University, Texas Tech University Health Sciences Center, Angelo State University and Texas Tech University Health Sciences Center El Paso.
Headquartered in Lubbock, Texas, the TTU System is a $2 billion enterprise focused on advancing higher education, health care, research and outreach with approximately 20,000 employees, nearly 53,000 students, more than 335,000 alumni and an endowment over $1.2 billion.
In its short history, the TTU System has grown tremendously and is nationally acclaimed, operating on 17 campuses statewide and internationally. The TTU System has set forth a bold vision of excellence, collaboration and innovation and continues to prove that from here, it's possible.