Home /
Texas Tech University System Regents Elect Chair and Vice Chair
Texas Tech University System Regents Elect Chair and Vice Chair
Tim Lancaster and Chris Huckabee will serve in the newly-appointed positions.
October 8, 2018 | Contact: Brett Ashworth
The Texas Tech University System Board of Regents today (Monday) elected Tim Lancaster as chairman and Christopher M. Huckabee as vice chairman of the board during a special-called meeting by teleconference. The appointments are effective immediately.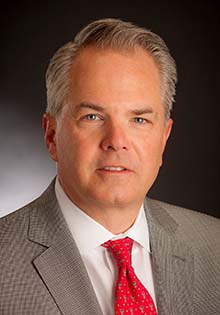 Christopher M. Huckabee

Regent John Esparza nominated Lancaster and Huckabee as chair and vice chair, respectively. The nominations were affirmed by a unanimous vote by the regents in attendance.
Though Lancaster, who previously served as vice chairman, automatically ascended to the position of chairman following the resignation from chair duties submitted by L. Frederick "Rick" Francis on Oct. 4, he called for an election of both chair and vice chair during the teleconference meeting "in an effort to maintain transparency."
"I am honored my fellow regents have elected me to this position and trust me to serve in a meaningful way," Huckabee said. "I look forward to working with Chairman Lancaster to ensure thoughtful, impactful decision making by this board moving forward to affect positive change and excellence at our institutions."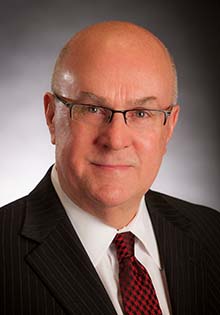 Tim Lancaster

Lancaster, of Abilene, was appointed by Gov. Rick Perry to the Board of Regents on Feb. 14, 2013, with a term expiring on Jan. 31, 2019. He was named vice chairman of the board on Feb. 23, 2017. Lancaster has served as President and CEO of Hendrick Health System, a 500-bed hospital with 3,400 employees serving a 19-county area of West Texas, since 2004. He has announced he will retire from this position at the end of 2018.
In September 2018, Lancaster was recognized as the 2018 Outstanding Citizen of the Year by the Abilene Chamber of Commerce. He was also awarded the 2017 Earl M. Collier Award for Distinguished Health Care Administration, following a tenure as chairman of the Texas Hospital Association, which includes 500 hospitals. He has logged more than 30 years in the health care field, including five years as CEO of the Cogdell Memorial Hospital in Snyder.
He earned his Bachelor of Business Administration in finance from Texas Tech University in 1976 and a master's degree in healthcare administration from Texas Woman's University in Dallas.
Huckabee, of Fort Worth, was appointed by Gov. Greg Abbott to the Board of Regents on Jan. 22, 2015, with a term expiring on Jan. 31, 2021. Huckabee is the CEO of Huckabee Architecture, Engineering and Program Management, a 300-person firm dedicated to educational design. Gov. Rick Perry twice appointed Huckabee to the Texas Higher Education Coordinating Board where he chaired the Agency Operations Committee. Huckabee is a past board member for Cook Children's Health Foundation and the Cook Children's Medical Center in Fort Worth. He is also Chair Emeritus of the Board of the North Texas Community Foundation.
He earned a bachelor's degree in architecture from Texas Tech University in 1991 and is a registered architect in Texas, Colorado, New Mexico, Arkansas and Georgia. He also holds National Council of Architectural Registration Boards Certification (NCARB).
About the Texas Tech University System
Established in 1996, the Texas Tech University System is one of the top public university systems in the state of Texas and nation, consisting of four universities—Texas Tech University, Texas Tech University Health Sciences Center, Angelo State University and Texas Tech University Health Sciences Center El Paso.
Headquartered in Lubbock, Texas, the TTU System is a $2 billion enterprise focused on advancing higher education, health care, research and outreach with approximately 20,000 employees, nearly 53,000 students, more than 335,000 alumni and an endowment over $1.2 billion.
In its short history, the TTU System has grown tremendously and is nationally acclaimed, operating on 17 campuses statewide and internationally. The TTU System has set forth a bold vision of excellence, collaboration and innovation and continues to prove that from here, it's possible.