Home /
Moody's Reaffirms Texas Tech University System's Aa1 Long-Term Credit Rating
Moody's Reaffirms Texas Tech University System's Aa1 Long-Term Credit Rating
May 16, 2019 | Contact: Scott Lacefield
The Texas Tech University System had its long-term credit rating of Aa1 reaffirmed by Moody's Investors Service, the corporation announced today.
The TTU System received an upgrade to Aa1 Stable in 2015 and received an Aa1 rating in 2017. Moody's is the latest of the influential credit rating agencies to rate the TTU System with an elite-level rating.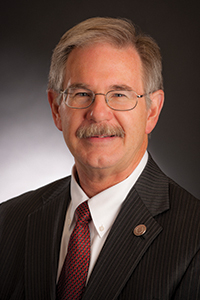 Gary Barnes

"This is quite an accomplishment that places us among the top tier of colleges and universities nationwide," said TTU System Vice Chancellor and Chief Financial Officer Gary Barnes, "It is especially gratifying considering the current negative financial outlook for the higher education sector as a whole through 2019. Our university CFOs, their teams and our investments team have done an excellent job positioning us for financial success."
During the past 10 years, Moody's has given the TTU System two rating category upgrades from Aa3 to Aa2 (2008-2010) and from Aa2 to Aa1 (2015-17).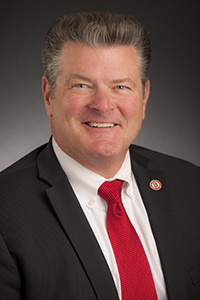 Chancellor Tedd L. Mitchell

The TTU System's excellent strategic positioning reflects its sizable wealth profile, strong position of spendable cash and investments compared to debt and options. Moody's also cited the TTU System's solid fundraising activity and steady enrollment growth to justify the reaffirmed rating. The system's credit quality is based on strong revenue diversity with growth in key revenue streams providing significant operating stability.
"This is a remarkable achievement and speaks volumes to the effort of our leadership and management teams," TTU System Chancellor Dr. Tedd L. Mitchell said. "I'd like to congratulate our CFO Gary Barnes, our investments team, and our university CFOs and financial leadership teams for their expertise and hard work. It is rewarding to receive this rating that recognizes the strength of our system and institutions."
Moody's also credits successful philanthropy and strong fiscal stewardship across the system's multiple institutions for the overall excellent wealth profile. Moody's explains that while none of the system's four institutions, Texas Tech University, Angelo State University, Texas Tech University Health Sciences Center and Texas Tech University Health Sciences Center El Paso, are in an official fundraising campaign, total philanthropic giving has been at historic highs in two of the last five years.
The TTU System has also received back-to-back AA+ ratings by Standard & Poor's and Fitch Ratings reaffirmed the TTU System with an AA+ rating in 2018.
About the Texas Tech University System
Established in 1996, the Texas Tech University System is one of the top public university systems in the state of Texas and nation, consisting of four universities—Texas Tech University, Texas Tech University Health Sciences Center, Angelo State University and Texas Tech University Health Sciences Center El Paso.
Headquartered in Lubbock, Texas, the TTU System is a $2 billion enterprise focused on advancing higher education, health care, research and outreach with approximately 20,000 employees, over 54,000 students, more than 340,000 alumni and an endowment over $1.3 billion.
In its short history, the TTU System has grown tremendously and is nationally acclaimed, operating on 17 campuses statewide and internationally. Under the dynamic leadership of Chancellor Dr. Tedd L. Mitchell, the TTU System has set forth a bold vision of excellence, collaboration and innovation and continues to prove that from here, it's possible.