Home /
March 19, 2020 | TTU System Coronavirus (COVID-19) Update
March 19, 2020 | TTU System Coronavirus (COVID-19) Update
---
TTU System Coronavirus information
March 19, 2020
Dr. Tedd L. Mitchell issued Thursday (March 19) the following update to the university communities across the Texas Tech University System on the latest developments with planning and preparation for the university system with the Coronavirus (COVID-19).
Letter from Chancellor Mitchell:
Dear team members: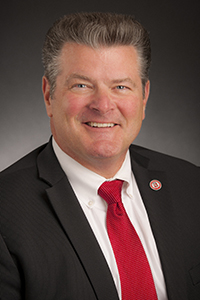 Tedd L. Mitchell, M.D.
---
I wanted to send you a quick note of encouragement to express how proud I am of each and every person in our Ram and Red Raider families. Our leadership and teams from across the Texas Tech University System have been diligent in immediately implementing Phase III Operations, defined as Restricted Operations during the COVID-19 pandemic.
Make no mistake, the way we conduct business on a day-to-day basis is changing. As we adjust to our new routines working remotely, we must all remain connected and committed to upholding our important mission in higher education.
We must also make no mistake on the seriousness of this virus, as affirmed today by our Gov. Greg Abbott. Our efforts to social distance are paramount in minimizing the spread of COVID-19, and the answer is in our control.
The way we respond now directly impacts to the way persevere. With patience, respect and conviction from us all, we will continue as the finest university system that I am so honored to lead.
Should you have questions or need more information, I highly encourage you to visit the COVID-19 (Coronavirus) webpage, listed below, at your respective university.
Take care and stay safe,
Tedd L. Mitchell, M.D.
Chancellor