Home /
A Message from Chancellor Tedd L. Mitchell, M.D.
A Message from Chancellor Tedd L. Mitchell, M.D.
---
April 16, 2020
Dear Angelo State faculty and staff,
I hope everyone is well, and most importantly, I hope everyone is safe and healthy during this time.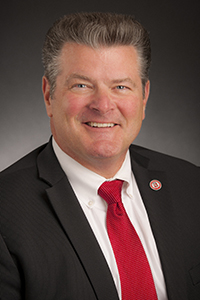 Tedd L. Mitchell, M.D.
---
I wanted to make sure you heard from me directly about the leadership changes at the university. This past weekend, the Texas Tech University System Board of Regents and I received and accepted Dr. Brian May's resignation as President of Angelo State University. I then asked ASU's Vice President for Finance & Administration, Angie Wright, to serve as Interim President -- and we are fortunate that she agreed to take the post.
As you all know, she brings a wealth of experience and nearly four decades of commitment to ASU to the role. Her particular area of expertise is one that will be vital in the year ahead. Next January, the System and our universities will be presenting its appropriations requests to the state legislature. This is a complex and lengthy process, and our leaders work closely together to present both short- and long-term plans for our universities' budgets and initiatives.
This coming budget year is going to be especially challenging. The economic shutdown caused by COVID-19 will likely cause a decline in state revenue. But making matters uniquely difficult for Texas is the steep decline in oil prices in a state that relies on oil and gas production to fund investments in education. That means our state's budget is going to be under more pressure than ever, and by extension, it means that our university budgets will be scrutinized more closely than ever. That's why you all should be pleased that we have an expert in such matters with Angie at the helm.
I know change can be challenging, and I welcome any questions you have. What gives me confidence is Angie's experience, as well as the team that surrounds her, which includes a faculty that is second to none. I was on campus this past Monday, and I have been in communication with, among others, Dr. Donald Topliff, whom I regard as a first-rate provost and steward of ASU's academic standards and success. Let me say this as plainly as possible: I, and the Board of Regents, am confident that ASU is in great hands.
We have ample and recent evidence of this university's ability to respond to challenges with speed and focus. Like our other universities, ASU has made the swift transition to remote learning in recent weeks, and many members of the faculty have moved their curriculum and teaching online. I understand how difficult this process can be, and I am grateful to all of you for keeping our curriculum and instruction going during this time.
ASU has also gone above and beyond. As a doctor and someone in regular touch with health care professionals, I was particularly moved to see that ASU opened up Carr Hall as a temporary housing site for health care workers. Few efforts could be more important right now.
As ever, ASU is doing what it can for the San Angelo community and the state of Texas. I am honored to work with your leadership to continue advancing this university's mission, and I look forward to a productive summer and fall. If you have any questions, please do not hesitate to contact me or my office. The Ram Family is our family too, and I am grateful for your hard work during these trying times.
Warmest regards,
Tedd L. Mitchell, M.D.
Chancellor
Texas Tech University System