Home /
Message Announcing Lori Rice-Spearman as Sole Finalist for TTUHSC
Message Announcing Lori Rice-Spearman as Sole Finalist for TTUHSC
---
May 14, 2020
Dear TTUHSC community,
I hope this note finds you and your families well.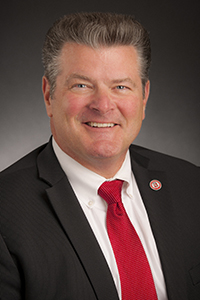 Tedd L. Mitchell, M.D.
---
Since November of last year, a 14-person committee has been conducting a national search to identify the next President of Texas Tech University Health Sciences Center. This afternoon, the Board of Regents of the Texas Tech University System finalized its decision, and it is with the utmost pride that I write to you to announce the selection of Dr. Lori Rice-Spearman as the sole finalist and candidate for the presidency of Texas Tech University Health Sciences Center.
Her roots within the Red Raider family and West Texas region run deep. She's an Odessa native and graduate of the first-ever class of the TTUHSC Clinical Laboratory Science program. She has published widely in peer-reviewed journals, and she joined TTUHSC professionally in 1987. In 2016, she was appointed Dean of the School of Health Professions, and it was under her leadership that the School of Health Professions earned national recognition for the quality of its training and programs. On the strength of that track record, Dr. Rice-Spearman was unanimously selected to serve as TTUHSC's provost and chief academic officer in October 2019.
In November 2019 when she was named Interim President of TTUHSC, I can't imagine that she, nor anyone, could have guessed that the following months would be among the most consequential in both our university's and our country's history. Dr. Rice-Spearman has provided exemplary leadership amidst a global pandemic, and it is no small part because of her efforts that TTUHSC has earned nationwide praise during the coronavirus outbreak. Throughout Texas, and throughout the country, people are safer because of the hard work of TTUHSC faculty, staff and students—and at no time has such effort meant or mattered more.
Now that Dr. Rice-Spearman has been named the sole finalist for the TTUHSC president position, state law requires that 21 days must pass before final action can be taken on her formal appointment. At that time, I look forward to introducing Dr. Rice-Spearman as the ninth president of TTUHSC and first female president in the university's 51-year history.
Those of you who are members of the TTUHSC community know its strength and its reach. TTUHSC has grown tremendously in its five decades—it is a comprehensive health university, made up of five schools, five campuses, five institutes and 20 centers. We are one of Texas' crown jewels, and it was one of the honors of my professional career to serve as President of TTUHSC. I have known Dr. Rice-Spearman from my days in that role, and having worked elbow-to-elbow with her, I have seen first-hand her vision, compassion and commitment. I cannot think of a finer steward and leader for TTUHSC, as we continue to strive for excellence during these trying times.
Please join me in congratulating Dr. Rice-Spearman and thanking the search committee for their hard work. I wish you all good health during this time, and if you have any questions, please do not hesitate to reach out to me or my office.
Warmest regards,
Tedd L. Mitchell, M.D.
Chancellor, Texas Tech University System