Home /
Lori Rice-Spearman Named Sole Finalist for Texas Tech University Health Sciences Center President
Lori Rice-Spearman Named Sole Finalist for Texas Tech University Health Sciences Center President
Rice-Spearman, who joined TTUHSC in 1987, has served as interim president since Nov. 1, 2019; she will become the first female president in Texas Tech University System history.

May 14, 2020 | Contact: Scott Lacefield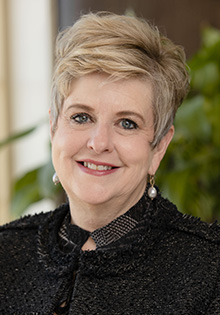 Lori Rice-Spearman

---
The Texas Tech University System Board of Regents today (May 14) announced the selection of Lori Rice-Spearman, Ph.D., as the sole finalist to become the next permanent president for Texas Tech University Health Sciences Center.
The decision was unanimously approved at the conclusion of the board's regularly scheduled meeting. State law requires 21 days must pass before final action can be taken on employment once a sole finalist has been named. Rice-Spearman's start date as president is expected to be June 5.
"Thirty-three years ago, I joined the TTUHSC faculty as an academic instructor in the then-School of Allied Health Sciences," Rice-Spearman said. "I found great joy in that job, in part because I had been a student in those very seats at TTUHSC just years before. Today, I am humbled beyond words at the opportunity to serve as the next President of this great university.
"The TTUHSC community is one in which individuals demonstrate an ongoing commitment to serving others. I'm honored for the opportunity to continue working with such an incredible team, and I'm grateful to the search committee, Board of Regents, and Chancellor Mitchell for the trust they've placed in me to lead this great university."
A national search was conducted to recruit and identify a pool of experienced leaders for the position. The board voted to select Rice-Spearman as the sole finalist after interviews were conducted with candidates and a recommendation was made from Dr. Tedd L. Mitchell, chancellor of the Texas Tech University System. The search committee reviewed nominations and applications and interviewed candidates before presenting top semi-finalists for the chancellor and board's consideration.
"Our committee conducted a national search, recruited a strong candidate pool and interviewed several impressive candidates during the search process, and Dr. Rice-Spearman rose to the top among a number of talented and highly-qualified candidates," TTU System Regent and Search Committee Chairman Mark Griffin said. "Texas Tech University Health Sciences Center has evolved as a comprehensive, nationally prominent health-related institution, and we have great confidence the university will continue to develop and succeed under Dr. Rice-Spearman's dynamic leadership."
Rice-Spearman will become the ninth president in the 51-year history of TTUHSC. Additionally, she becomes not only the first female president of TTUHSC, but also in the history of all four universities within the TTU System.
"Lori has displayed exemplary leadership during her tenure at Texas Tech University Health Sciences Center and most recently leading as provost and interim president," Mitchell said. "Lori is a natural leader and has been a valuable and distinguished member of the TTUHSC community for more than 30 years. Her vision, demonstrated success and unique leadership skills make her exactly the right person to chart the university's next chapter at a pivotal time in our history. TTUHSC will continue to thrive under her leadership."
Rice-Spearman joined TTUHSC in 1987 and has since ascended through the ranks, most recently having served as the dean of the School of Health Professions, associate provost and then as provost and chief academic officer. She was appointed interim president of TTUHSC in November 2019 following Mitchell's decision to close his tenure as president and focus solely on his position as chancellor.
While serving as provost and interim president, TTUHSC received reaffirmation of its accreditation from the Southern Association of Colleges and Schools Commission on Colleges (SACSCOC). The university announced the completion of its first-ever capital campaign, raising $102.5 million. Additionally, Rice-Spearman has led the university's COVID-19 response, earning statewide and nationwide praise during the coronavirus outbreak.
As dean, Rice-Spearman strategically guided TTUHSC's School of Health Professions to becoming the largest health professions school in Texas and one of the largest in the nation in relation to the breadth of programs and the number of enrolled students and graduates.
During Rice-Spearman's tenure, the School of Health Professions added several new areas of study and received numerous national awards recognizing the success of its programs. The school now has 20 accredited academic programs – five of which are "first-in-the-nation."
Prior to serving as dean, Rice-Spearman held various positions within the school, including associate dean for Learning Outcomes and Assessments and chair of the Department of Laboratory Sciences and Primary Care.
About the Texas Tech University System
Established in 1996 and headquartered in Lubbock, Texas, the Texas Tech University System is a $2 billion higher education enterprise focused on advancing higher education, health care, research and community outreach. Consisting of four universities – Texas Tech University, Texas Tech University Health Sciences Center, Angelo State University and Texas Tech University Health Sciences Center El Paso – the TTU System collectively has approximately 55,000 students, 17 campuses statewide and internationally, more than 300,000 alumni and an endowment valued at over $1.3 billion.
During the 86th Texas Legislature under the leadership of Chancellor Dr. Tedd L. Mitchell, legislative funding and authority was provided to establish a new Texas Tech University veterinary school in Amarillo and a new dental school at Texas Tech University Health Sciences Center El Paso. This will be the state's first veterinary school in more than a century and first dental school in over 50 years. The addition of these two schools makes the Texas Tech University System one of only nine in the nation to offer programs for undergraduate, medical, law, nursing, pharmacy, dental and veterinary education, among other academic areas.