Home /
Chancellor Mitchell: "We are committed to a safe reopening of our campuses"
Chancellor Mitchell: "We are committed to a safe reopening of our campuses"
---
June 9, 2020
Dr. Tedd L. Mitchell issued Tuesday (June 9) the following update to the Texas Tech University System community on the latest plans and developments for a safe return to campus.
Letter from Chancellor Mitchell:
Dear Ram and Red Raider family,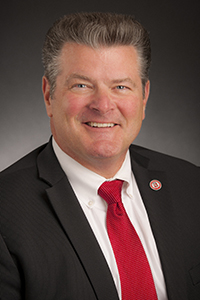 Tedd L. Mitchell, M.D.
---
I hope you and your families are doing well.
The Texas Tech University System and our universities are committed to a safe reopening of our campuses, and as we begin our phased-in return, our system and university leaders are focused on preparing for a successful academic year this fall. We have been in nearly constant contact since the COVID-19 pandemic began to help address the many challenges we've all faced, including our response to cases among our student body and our local campus communities.
Each university will be communicating more about their respective plans and commitment to a safe return with students, faculty and staff in the coming weeks. Across the system, we have the benefit of joining leadership and perspectives from our two general academic universities—Texas Tech University and Angelo State University—with our two health institutions—Texas Tech University Health Sciences Center and Texas Tech University Health Sciences Center El Paso. Our health institutions have been at the front lines of this crisis from its outset, helping at the local, state and national level. There is great strength in our collective efforts. The knowledge and expertise gained during this time is being used to help ensure that the coming semester is safe for all of our universities.
Our top priority is ensuring that we can all return to campus with confidence. The fall semester will no doubt look and feel different than in times past, but I'm also confident in our ability to balance our commitment to advancing higher education and health care with our duty to keeping our people safe.
Our daily lives have changed in countless ways these past few months. Additionally, the tragic events of recent weeks have increased uncertainty and compounded grief for many. In light of these events, and in view of what has happened in far too many places across our country, our commitment to supporting one another has never been more important. While there have been hardships, change is how we move forward, allowing for necessary evolution and innovation. We are dedicated to providing a safe and welcoming environment for everyone in our family, and we must all show empathy, be compassionate, and do our part to take care of and respect each other.
As always, if you have any questions, please do not hesitate to reach out. I know how uncertain this time has been for everybody, and we are here to help and to answer your questions. Here's looking forward to a safe and joyful return to campus, and I wish you all the best for a safe summer ahead.
Warmest regards,
Tedd L. Mitchell, M.D.
Chancellor