Home /
Message Announcing Lori Rice-Spearman as President of TTUHSC
Message Announcing Lori Rice-Spearman as President of TTUHSC
---
June 5, 2020
Dear TTUHSC Community,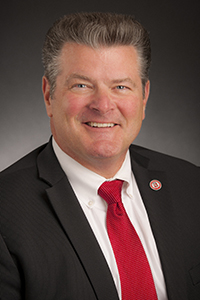 Tedd L. Mitchell, M.D.
---
It is my privilege to write to you today and announce that our search process for the presidency of the Texas Tech University Health Sciences Center has come to close. And it is an even greater privilege for me to announce that Dr. Lori Rice-Spearman will serve as the ninth president of Texas Tech University Health Sciences Center.
Last November, we convened a 14-person committee to begin this search. That committee included members of our Board of Regents, faculty, administrators, students, alumni and local leaders. In the seven months that followed, the committee solicited applications from throughout the country, carefully reviewed candidate profiles, and rigorously interviewed individuals for this post. We conducted a nationwide search for an institution that has national reach and importance, and we had a talented, deep, and diverse candidate pool. I'm grateful to the committee for the many months of effort and hard work that helped to find the ideal leader for TTUHSC.
At the conclusion of our Board of Regents meeting in May, we were proud to announce Dr. Rice-Spearman as our sole finalist, and we have come to the end of a state-mandated 21-day period required between the announcement of the sole finalist and the formal appointment of the new president. Today, Dr. Rice Spearman becomes the next president of TTUHSC.
I have known Dr. Rice-Spearman as a colleague and as a leader for many years, and I have nothing but the highest regard for her commitment, compassion, and vision. All of us have witnessed her extraordinary leadership first-hand these last several months, as our community, state, and country have battled a global pandemic. During this time, the TTUHSC family has performed heroically, and Dr. Rice-Spearman and her team have earned the gratitude of the community and countless people that TTUHSC has helped during this difficult time.
Last year, TTUHSC celebrated fifty years of its existence, and I cannot think of a more fitting start for its next half-century than the appointment of Dr. Rice-Spearman as president. She is not only the first female to lead TTUHSC, but also the first female president in the history of any institution within the Texas Tech University System. This is a proud day for TTUHSC, for the Red Raider family, and for our great state.
Dr. Rice-Spearman's formal introduction and first remarks as president were made today during our livestream announcement, and I invite you to view this video of her official address. Please join me in congratulating Dr. Rice-Spearman on this historic occasion. TTUHSC is in exceptional hands, and I look forward to seeing this fine institution grow and develop under her stewardship.
Warmest regards,
Tedd L. Mitchell, M.D.
Chancellor, Texas Tech University System