Home /
Message Announcing Ronnie D. Hawkins Jr. as Sole Finalist for Angelo State
Message Announcing Ronnie D. Hawkins Jr. as Sole Finalist for Angelo State
---
July 24, 2020
Dear Ram and Red Raider family,
I hope this note finds you all well and your families safe.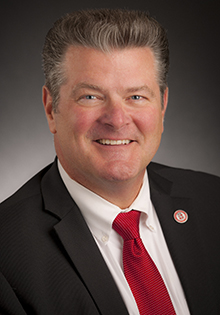 Tedd L. Mitchell, M.D.

---
As you may know, the ASU Presidential search committee spent the last several months identifying a new President for Angelo State University. Led by ASU alumnus and Texas Tech University System Regent Mickey Long, the committee conducted an extensive, nationwide search for the best candidate for this position. The committee vetted over 100 applicants and interviewed many exceptionally qualified candidates. I am grateful to the committee for their hard work, and I am also thankful to interim ASU President Angie Wright for her service during this period.
I am proud and delighted to announce that the Texas Tech University System Board of Regents has selected an ASU alumnus—Lieutenant General (retired) Ronnie Hawkins Jr.—as the sole finalist for the position of President of Angelo State University. In keeping with Texas state law, twenty-one days must pass before a finalist can be named President, and we look forward to Ronnie's official appointment in August.
Ronnie is a long-time San Angelo resident and member of the ASU community. He and his family first arrived in 1969, when his father was serving in the military at Goodfellow Air Force Base. Ronnie came to ASU by way of a track scholarship, an Air Force ROTC scholarship and a Carr Scholarship. While on campus, he learned from many of ASU's greats, including computer science professor Dr. Fred Homeyer and track coach David Noble. Ronnie credits ASU with shaping the trajectory of his career and life, and with giving him the tools and skills to later serve our country at the highest levels.
From ASU, Ronnie went on to a distinguished career in the U.S. military, one that has taken him across the country and world. He rose to the rank of a Lieutenant General and has served as the Director of the Defense Information Systems Agency in Fort Meade, Maryland, as well as the Deputy Chief of Staff for Communications and Information Systems for the Multi-National Force-Iraq in Baghdad. As a testament to his distinguished service, Ronnie has been awarded the Defense Superior Service Medal, the Legion of Merit with oak leaf cluster, the Bronze Star Medal, the Global War on Terrorism Service Medal and the Defense Meritorious Service Medal.
Ronnie's commitment to public service extends well beyond the uniform. He and his wife Maria are active members of the San Angelo community and have given back in their hometown, to ASU and beyond in countless ways. In 2019, the San Angelo Chamber of Commerce named Ronnie and Maria as San Angelo Citizens of the Year. Maria is a native of San Angelo, attended ASU, and shares her husband's commitment to the university and its success.
Equally notable, Ronnie has maintained a lifelong commitment to higher education. After receiving his bachelor's degree in business administration from ASU, he earned three master's degrees. Ronnie also attended a program for senior managers in government at Harvard University, and he has served as a visiting adjunct instructor at ASU, teaching courses in leadership development.
Most importantly, Ronnie returns to ASU at a time of growth, transformation, and achievement for the university. ASU has been nationally recognized in everything from the quality of its education, to the success of its athletics teams, to the impact of its alumni. In looking for a leader, the Board of Regents, the search committee and I looked for someone who could both embrace ASU's culture and traditions and also help chart its next chapter. We wanted an individual who understood what ASU means to its students, faculty, administrators, and alumni, and someone who could help advance its mission.
Ronnie is that person and more. The accomplishments noted over Ronnie's life just begin to tell the story of his success and leadership. Above all, Ronnie is a true leader of the highest caliber, integrity, and character.
Please join me in congratulating him and his family as they begin this exciting journey.
Warmest regards,
Tedd L. Mitchell, M.D.
Chancellor, Texas Tech University System