Home /
Message Announcing Ronnie D. Hawkins Jr. as ASU President
Message Announcing Ronnie D. Hawkins Jr. as ASU President
August 14, 2020
Dear Ram and Red Raider family,
I hope all of you are doing well and enjoying the last moments of summer.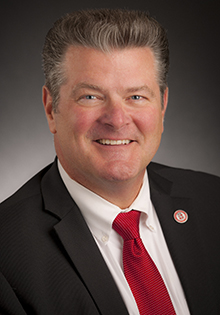 Tedd L. Mitchell, M.D.

---
I'm happy to announce that we've come to the end of a state-mandated 21-day period required between the announcement of our sole finalist for the Angelo State presidency and the formal appointment. Today, Angelo State University alumnus General Ronnie D. Hawkins Jr. has been officially appointed as the 11th President of ASU.
Ronnie was recommended by our selection committee, and he was chosen from a competitive field of over 100 applicants. What stood out during the search process was his lifetime of distinguished service and professional achievement, including his tenure as director of the Defense Information Systems Agency, where he oversaw a $10.2 billion global organization of 14,000 people. During his almost four decades in the Air Force, General Hawkins was recognized numerous times for his leadership and served both at home and overseas.
Becoming President of ASU is a homecoming for Ronnie, who completed his undergraduate degree in computer science at Angelo State in 1977. From there, he went on to earn three additional graduate degrees: a master's of science in human resources management and services, a master's of science in military national resource strategy and policy, and a master of divinity in Christian study.
Ronnie takes the helm at ASU at an extraordinary time for the university. Just weeks ago, ASU was yet again named a "College of Distinction"—the third year they've been given that national honor. This summer, the Council for Advancement and Support of Education recognized ASU with a 2020 Educational Fundraising Award, given to colleges and universities whose development programs are excelling at their missions. Even during COVID-19, ASU managed to earn special recognition for the strength of its remote and distance learning programs.
I could go on at some length about ASU's virtues and triumphs over the past several years, and we ought to consider the appointment of President Ronnie Hawkins as the latest of these.
On Monday, August 17, at 9 a.m. CST, we will be having a virtual announcement and official appointment to welcome Ronnie and celebrate this occasion. You can watch live here, and we encourage the entire Ram and Red Raider families to join us.
I have full confidence that his tenure will yield many more achievements, and I look forward to seeing them come to pass. This is a proud moment for the Ram Fam, and we'd like to congratulate President Ronnie Hawkins and his family on this tremendous occasion.
Warmest regards,
Tedd L. Mitchell, M.D.
Chancellor, Texas Tech University System