Home /
Chancellor Tedd L. Mitchell, M.D., and Dr. Janet Tornelli-Mitchell Holiday Greetings
Chancellor Tedd L. Mitchell, M.D., and Dr. Janet Tornelli-Mitchell Holiday Greetings
---
December 22, 2020
Dear Texas Tech University System family,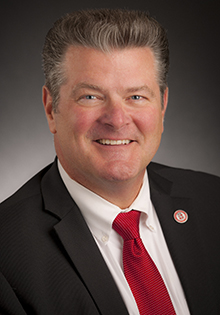 Tedd L. Mitchell, M.D.

---
As 2020 ends, I want to express my gratitude to our entire Texas Tech University System family. This was a year unlike any we'd ever seen, and all of you stepped up in ways we can never repay.
To the health care professionals among us: Thank you for a year's worth of service and sacrifice. When we needed you the most, you delivered. You have stood strong and offered world-class health care for our communities. I'd also like to thank your families, who have shouldered the burden when you had to work extra shifts or quarantine for extended time.

To our faculty and staff: Thank you for your flexibility, patience and fortitude. It isn't like a university to reconfigure itself on a dime, but this year, you all helped us do exactly that. We've served our students and departments, and we provided an exceptional educational experience, whether in-person or remotely. Our facilities and operations teams have performed miracles to make sure our campuses were safe and that we took every precautionary measure we could.

To our System Administration: I am thankful for every one of you and our executive leadership team. As we continue our Values Culture journey, your efforts and commitment are constant reminders to me of our team's Integrity and Community values. This year more than any other, we lived those values, and all of you went above and beyond in advancing our mission.

To our university presidents and administrations: Thank you for your leadership and resilience. In a year that brought unprecedented challenges for all of higher education, our universities of the Texas Tech University System enrolled a record new class, graduated leaders, produced problem-solving research, and did so while keeping our campuses as safe as possible. All of it was achieved after immense planning, and we've been successful this year because of the many late nights and long weekends that you all put in. I have never been prouder of our universities, and I am grateful for everything you have done this year.

As you enjoy the holiday season, I hope you and your loved ones continue to stay healthy and safe. Happy holidays!
Warmest regards,
Tedd L. Mitchell, M.D.
Chancellor, Texas Tech University System