Home /
New Public Art Sculpture Installed on Angelo State Campus
New Public Art Sculpture Installed on Angelo State Campus
December 4, 2018 | Written by: Tom Nurre (Angelo State University)
Created by New York-based artist Owen Morrel, Cube-i was commissioned through the Texas Tech University System Public Art Program that designates one percent of the estimated total cost of each new major construction project be used to fund an accompanying piece of public art.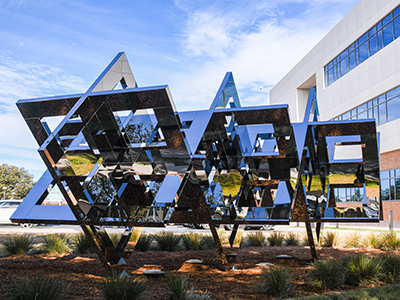 Cube-i is a mirrored, stainless-steel piece that measures 24-feet long, 11-feet tall and eight-feet wide. The strong geometry of the piece mimics the architecture of the Health and Human Services Building. The cube, a symbol of wholeness or oneness, has specific meaning within the context of this facility promoting and initiating overall wellness and wholeness. Mirrors reflect those who view the sculpture and the surrounding environment, including the HHS Building and the nature around it. The sciences heavily influence all of the artist's work.
"Cube-i was inspired by a drawing of a cube by Leonardo Da Vinci," Morrel said. "The cube, for Da Vinci, was a geometric representation of the interconnectedness of all things in the universe. It was his 'Unified Field Theory.' All of my works are inspired by my interest in the sea, ships, navigation, astronomy and the entirety of the sciences. Cube-i will complement the HHS Building's geometric architecture and will make navigating through the health center site a fanciful and unique experience. The formal composition of this sculpture makes exciting, meaningful use of this public space and will trigger the spirit of exploration in the mind of the viewer."
The Public Art Program was initiated by the TTUS Board of Regents in 1998 to enrich the campus environments and extend the educational mission of all system campuses.
"We are excited to add this piece by Owen Morrel to the Angelo State University campus," said Emily Wilkinson, Public Art Program director. "Owen's piece is the sixth piece of public art that has been added to the campus through the Texas Tech University System percent for art program. He has been sculpting since the early 1970s and has many important works throughout the U.S. and world, including in Arlington, Texas, New York City, Paris and Rome. The mirrored components on 'Cube-I' add a unique interactive quality that must be experienced in person."
The other public art pieces on the ASU campus include the "San Angelo Heritage Mosaic" by the main entrance to the Porter Henderson Library, the "Kinesis" sculpture by the entrance to the Ben Kelly Center for Human Performance, the "SunHelix" sculpture near the Plaza Verde residence hall, the "Dominic the Champion" bronze ram statue at LeGrand Stadium at 1st Community Credit Union Field, and the terrazzo floor in the Hunter Strain Engineering Labs titled "31.4638°N, 100.4370°W" (San Angelo's map coordinates).
We have a new piece of art on campus, #ramfam! Located outside the Health and Human Services Building, "Cube-i" is a a mirrored, stainless-steel piece by artist Owen Morrel. The piece was commissioned through the @TTUSPublicArt Program. Read more: https://t.co/ftUq3Svo66 pic.twitter.com/9mehdH92xN

— Angelo State (@AngeloState) December 6, 2018