Home /
Texas Tech University System Employees Take Part in Mediation Training
Texas Tech University System Employees Take Part in Mediation Training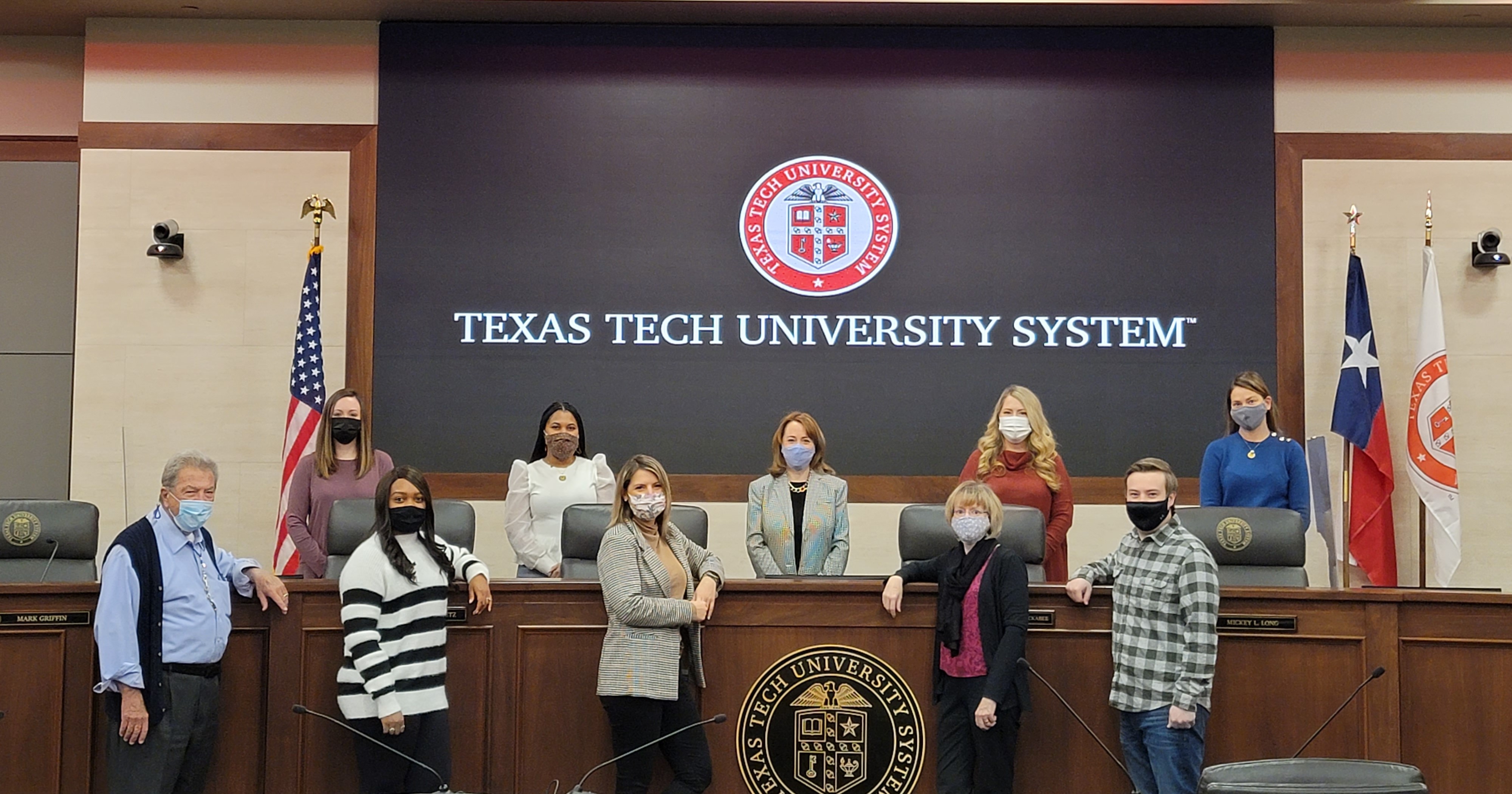 ---
The Texas Tech University System Administration and component universities took part in a 40-hour mediation training the first week of January.
January 29, 2021 | Written by: Katelynn Horton and Dawn Payne
To start off the new year, the Texas Tech University System Administration hosted one of the most comprehensive and collaborative Title IX mediation trainings in its 25-year history along with its universities.
Employees from the Title IX Offices of three of the System's component institutions, as well as the TTU System Administration's Office of Equal Opportunity, participated in an educational workshop to become trained mediators. The training was provided by the Lubbock County Dispute Resolution Center, and, as required by Texas law, included 40-hours of basic mediation training involving classroom instruction, role playing exercises and simulated mediations.
Representatives from the TTU System Administration, Texas Tech University, Angelo State University (ASU) and Texas Tech University Health Sciences Center (TTUHSC) participated in the training.
This comprehensive mediation training gave each of the institutions a valuable tool for handling conflict and maintaining positive academic and employment environments. Employees had the opportunity to learn from each other and share best practices, while also creating opportunities for future Title IX Office collaboration across the system.
The Office of Equal Opportunity and the Title IX Offices at each university frequently address disagreements that arise on their respective campuses among both students and employees. Under the new Title IX regulations, informal resolution (such as mediation) can play an important role in the Title IX process and is provided as an alternative that may be offered and facilitated by the universities.
Mediation is a form of alternative dispute resolution (ADR) where a neutral third party assists in resolving issues and reaching a mutually acceptable solution to a problem. A mediator does not reach a decision regarding the dispute but rather facilitates communication between the individuals, so that the parties themselves determine the best way to resolve their concerns.
What those involved in the training said about the experience:
"Coming together as component institutions of the TTU System to learn effective mediation practices was a rewarding and valuable experience. We all have a common goal to resolve reported incidents of Title IX and sexual misconduct in a way that is fair, effective, and helpful to the parties involved. This formal training will help me as a Title IX Coordinator offer an approach to resolution that supports our TTUHSC values-based culture and our continuous resolve to build a safer campus community." - Leslie Collins, Title IX Coordinator, TTUHSC
"The mediation training was incredibly valuable in sharpening our skills in resolving issues related to Title IX and sexual misconduct. The practical tools we learned will assist us in developing resolutions that meet the needs of all parties involved while addressing misconduct in a manner that includes education and restoration. We can't thank President Hawkins and the TTU System enough for supporting our desire to take this course." - Michelle Miller, Title IX Coordinator, ASU
"Not only did we learn new mediation techniques and practice our skill, but we learned a lot about the legal history of mediation that will enhance our ability as a state institution to use it in our universities." - Charlotte Bingham, Assistant Vice Chancellor for Administration, TTU System
"Being a trained mediator has definitely been very helpful in resolving some of the difficult matters our office deals with." - Glenn Mellinger, Civil Rights Investigator, TTU
About the Texas Tech University System
Established in 1996 and headquartered in Lubbock, Texas, the Texas Tech University System is a $2 billion higher education enterprise focused on advancing higher education, health care, research and community outreach. Consisting of four universities – Texas Tech University, Texas Tech University Health Sciences Center, Angelo State University and Texas Tech University Health Sciences Center El Paso – the TTU System collectively has approximately 55,000 students, 17 campuses statewide and internationally, more than 300,000 alumni and an endowment valued at over $1.3 billion.
During the 86th Texas Legislature under the leadership of Chancellor Dr. Tedd L. Mitchell, legislative funding and authority was provided to establish a new Texas Tech University veterinary school in Amarillo and a new dental school at Texas Tech University Health Sciences Center El Paso. This will be the state's first veterinary school in more than a century and first dental school in over 50 years. The addition of these two schools makes the Texas Tech University System one of only nine in the nation to offer programs for undergraduate, medical, law, nursing, pharmacy, dental and veterinary education, among other academic areas.