Home /
New Fundraising Record Set Across the Texas Tech University System
New Fundraising Record Set Across the Texas Tech University System
Oct. 26, 2022 | Contact: Scott Lacefield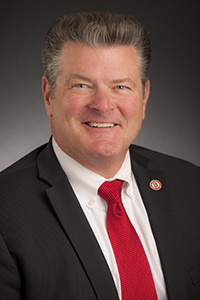 Tedd L. Mitchell, M.D.

The Texas Tech University System (TTU System) experienced a banner year in fundraising for the 2022 fiscal year, with a record-breaking $314.9 million raised in philanthropic support across the system's five institutions and TTU System Administration.
The previous fundraising record for the TTU System was $183.8 million in 2011.
"This unprecedented philanthropic support demonstrates how our donors and friends across the Texas Tech University System are investing in our institutions and higher education like never before," said Tedd L. Mitchell, M.D., chancellor of the TTU System. "Generous gifts from our passionate supporters position our system and universities for greater excellence in the future. Congratulations to the presidents of our five universities, their respective fundraising professionals, Vice Chancellor Patrick Kramer and the TTU System Administration Institutional Advancement team for making this success possible."
The tremendous support will transform many lives by creating new student scholarships, endowments, state-of-the-art facilities and numerous program developments across academics, athletics, research and patient care.
The following is a breakdown of total philanthropic activity with public support for each component of the TTU System:
"Since 2019, we have shifted our philosophy and operations regarding institutional advancement, placing the component institutions at the lead on direct fundraising efforts at the university level and with the System Administration providing essential support," Mitchell said. "This historic success has been made possible by the leaders and fundraising teams throughout our system and by the extraordinary generosity of our donors."
About the Texas Tech University System
Established in 1996, the Texas Tech University System is one of the top public university systems in the nation, consisting of five universities – Texas Tech University, Texas Tech University Health Sciences Center, Angelo State University, Texas Tech University Health Sciences Center El Paso and Midwestern State University.
Headquartered in Lubbock, Texas, the TTU System is a $2.6 billion enterprise focused on advancing higher education, health care, research and outreach with approximately 21,000 employees and 63,000 students, more than 375,000 alumni, a statewide economic impact of $16.4 billion and an endowment valued at $1.7 billion. In its short history, the TTU System has grown tremendously and is nationally acclaimed, operating at 24 academic locations in 21 cities (19 in Texas, 2 international).
During the 87th Texas Legislature under the leadership of Chancellor Tedd L. Mitchell, M.D., the TTU System welcomed MSU Texas as its fifth member institution during the 25-year anniversary of the system. MSU Texas is the only Texas university to become a member of the Council of Public Liberal Arts Colleges. Students at MSU Texas choose from more than 60 majors and several pre-professional programs, are active in more than 100 student organizations and bring a spirit of competition to 13 NCAA Division II athletics programs.
In addition, the TTU System is one of only nine in the nation to offer programs for undergraduate, medical, law, nursing, pharmacy, dental and veterinary education, among other academic areas.