Home /
Stacia Haynie Named Sole Finalist for Midwestern State University President
Stacia Haynie Named Sole Finalist for Midwestern State University President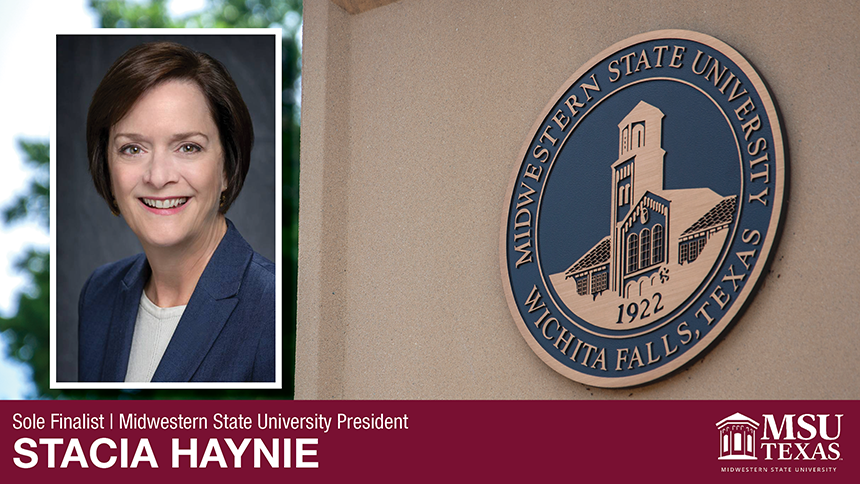 ---
June 20, 2023 | Contact: Scott Lacefield
The Texas Tech University System (TTU System) Board of Regents today (June 20) named Stacia "Stacy" Haynie, Ph.D., longtime administrator and professor at Louisiana State University (LSU) and Midwestern State University (MSU Texas) alumna, as the sole finalist for president of MSU Texas.
The decision was unanimously approved at the conclusion of the board's special-called video conference meeting on Tuesday, after a national search was conducted to identify the 13th president of MSU Texas.
Stacia Haynie, Ph.D.

---
A highly respected and collaborative leader in higher education for the past four decades, Haynie returns home to her alma mater following a 33-year tenure at LSU, where she was instrumental in countless academic endeavors and achievements that led to national recognition and excellence in research, graduate education, cross-campus collaborations, community engagement and university accreditation, to name a few.
Haynie's extensive background and leadership service includes recently serving as Executive Vice President and Provost and Chief Academic Officer; Dean of the College of Humanities and Social Sciences; Vice Provost for Academics and Planning; Associate and Interim Dean of the Graduate School and Department Chair, all while serving as a professor teaching judicial policies, constitutional law, comparative judicial behavior and American politics as the J.W. Annison Jr. Family Alumni Professor.
"It is an honor and a privilege to be named the sole finalist for the presidency of Midwestern State University," Haynie said. "MSU Texas and the Wichita Falls community have always held a special place in my heart, and I am ecstatic to have the opportunity to lead my alma mater into the next chapter in its history. My intellectual foundation was built at MSU Texas – which is a credit to the faculty and staff of this extraordinary university. I am excited to serve the MSU Texas community and to work tirelessly with the incredible faculty, staff and students to provide that same foundation for others."
Haynie, who is originally from Henrietta, Texas, located 20 miles from Wichita Falls in Clay County, earned a pair of degrees from MSU Texas with a bachelor's degree in theater –graduating summa cum laude – in 1981 and a master's degree in political science in 1986. She received her doctorate in political science in 1990 from the University of North Texas (UNT).
She was named Outstanding Education Student at MSU Texas in 1981, and she was named a Distinguished Alumna by the MSU Texas Department of Political Science in 1999 and earned the same recognition from the MSU Texas Fain College of Fine Arts in 2011. Haynie also returned to her alma mater in 2013 to serve as the spring commencement speaker at MSU Texas. In addition, she received Outstanding Graduate Student honors in political science from UNT in 1990.
Haynie arrived at LSU in 1990 as an assistant professor and then climbed the ranks to associate professor before becoming a full professor in 2003.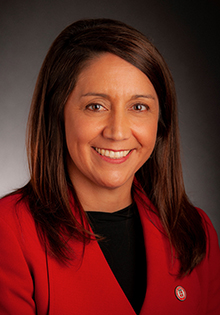 Ginger Kerrick Davis

---
Beginning this spring, a national search was conducted with the support of an 11-member search committee – consisting of MSU Texas, Wichita Falls and TTU System constituents – to recruit and identify a pool of experienced higher education leaders for the position. The search committee included representation from current and former regents, faculty, students, deans, staff, donors, alumni and community members who reviewed nominations and applications and interviewed candidates before recommending semi-finalists for TTU System Chancellor Tedd L. Mitchell, M.D., and the board's consideration.
The board voted to name Haynie as the sole finalist after additional interviews and screenings were conducted and a recommendation was made by Mitchell.
"The overall quality and number of exceptional leaders this position drew interest from is a testament to the reputation Midwestern State University has developed across the nation in higher education," said Ginger Kerrick Davis, TTU System vice chairwoman of the Board of Regents and search committee chairwoman. "Dr. Haynie is a talented administrator and dynamic communicator with a proven record of success in cross-campus collaboration with academic and administrative leadership. Our search committee and board members are excited to see the transformational growth MSU Texas will achieve under Dr. Haynie's leadership."
As sole finalist, Haynie is set to become the 13th president in the 101-year history of MSU Texas. State law requires 21 days must pass before final action can be taken on employment once a sole finalist has been named. Following the 21 days, an official appointment is made.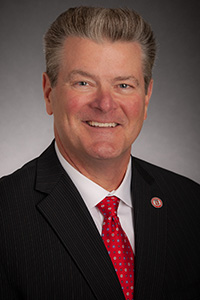 Tedd L. Mitchell, M.D.

---
"Dr. Haynie's deep passion for students and the overall student educational experience is second to none," said Mitchell. "The depth and breadth of administrative leadership Dr. Haynie has accomplished throughout her career in higher education is inspirational – from the department level to upper-level administration. I am confident she is the perfect person to guide MSU Texas to continued greatness and accelerated momentum into the future."
During her time as Executive Vice President and Provost and Chief Academic Officer, Haynie's priorities included recruiting, retention, online education and support for faculty's scholarly and creative work. Institutional goals were met or exceeded annually as LSU set a record for both first-time students (6,504) and second-year retention (85.8%). LSU also experienced record-setting achievements under Haynie's guidance as Provost in demographics in student population, average ACT score, six-year graduation rate, and online enrollment with the creation of 41 new online programs and 220 total new online courses. LSU also reached its goal for research expenditures with more than $161 million in expenditures during the 2020-21 academic year.
Haynie's four-year tenure serving as Dean of the College of Humanities and Social Sciences was marked by transformational growth as the college experienced a 25% increase in student enrollment from 2014-18, while also increasing its first-year retention to a record 87% during that period. The college increased its online enrollment and created LSU's first fully online degree program, a Bachelor of Interdisciplinary Studies. In addition, the college's three-year average fundraising total was doubled due to a data-driven and strategically focused effort led by Haynie.
Haynie has received numerous awards throughout her career, including the following during the past decade: Southern Political Science Association Manning Dauer Award for exceptional service to the discipline; Baton Rouge Business Report Influential Woman in Business; Student Government Jeffrey S. Campbell Distinguished Service Memorial Award; and the Nicholson Award for Outstanding Faculty Member from the College of Humanities and Social Sciences. In 2005, she received the J.W. Annison Jr. Family Alumni Professor award and the LSU Distinguished Faculty Award – both of which are campuswide recognitions.
Haynie's husband, Scott Haynie, was born and raised in Wichita Falls and earned a master's degree from MSU Texas and a bachelor's degree from UNT. The couple has remained engaged and supportive of MSU Texas over the years, including the establishment of the Doyle and Leota Edwards Family Scholarship, which was created to support scholars of their alma mater in education with a preference for low-income students from Clay County.
About the Texas Tech University System
Established in 1996, the Texas Tech University System is one of the top public university systems in the nation, consisting of five universities – Texas Tech University, Texas Tech University Health Sciences Center, Angelo State University, Texas Tech University Health Sciences Center El Paso and Midwestern State University.
Headquartered in Lubbock, Texas, the TTU System is a $2.65 billion enterprise focused on advancing higher education, health care, research and outreach with approximately 21,000 employees and 63,000 students, more than 375,000 alumni, a statewide economic impact of $16.4 billion and an endowment valued at $1.7 billion. In its short history, the TTU System has grown tremendously and is nationally acclaimed, operating at 26 academic locations in 22 cities (20 in Texas, 2 international).
In addition, the TTU System is one of only nine in the nation to offer programs for undergraduate, medical, law, nursing, pharmacy, dental and veterinary education, among other academic areas.