Research/Academic Showcase
Alumni Highlights
Development
Athletics
Texas Tech University Press
Helpful Links
Cast Your Vote
Vote coach Leach Liberty Mutual Coach of the Year.
Athletics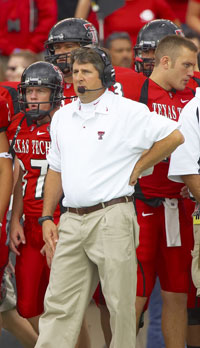 Vote Coach Leach for Liberty Mutual Coach of the Year
One college football coach will be crowned the inaugural Liberty Mutual Coach of the Year on Dec. 16. The Texas Tech Alumni Association is asking you to show your Red Raider pride and vote for Texas Tech Coach Mike Leach.
The Liberty Mutual Coach of the Year is awarded to the college football coach who most embodies the characteristics of responsibility and integrity on and off the field. 
Go to www.coachoftheyear.com between Sept. 8 and Nov. 20 to vote for Coach Leach and be sure to share your thoughts on why he's the best coach in America.
Vote as many times as you want. Voters have a chance to win an all-expense-paid trip for 4 to the 2007 Rose Bowl in Pasadena, California! See the official sweepstakes rules for details.
"College football coaches are tremendous role models to their student-athletes, undergraduates and alumni and to their on- and off-campus communities at-large," said Tony Rotondi, Liberty Mutual's alumni affinity marketing manager. "We're looking for college football fans to help us find the one coach that best represents their college or university through unparalleled responsibility and integrity."
The winning coach will be announced on Dec 16.
Warning: include(): http:// wrapper is disabled in the server configuration by allow_url_fopen=0 in D:\www\texastech\newsletter\stories\06Sep\coach-of-the-year.php on line 54 Warning: include(http://www.texastech.edu/scripts/emailArticle/include.php): failed to open stream: no suitable wrapper could be found in D:\www\texastech\newsletter\stories\06Sep\coach-of-the-year.php on line 54 Warning: include(): Failed opening 'http://www.texastech.edu/scripts/emailArticle/include.php' for inclusion (include_path='.;D:\php5_6\includes;D:\php5_6\extras;D:\php5_6\pear;D:\php5_6;D:\www;D:\www\include') in D:\www\texastech\newsletter\stories\06Sep\coach-of-the-year.php on line 54