Research/Academic Showcase
Alumni Highlights
Development
Athletics
Texas Tech University Press
Helpful Links
Dramatic Tour of Vietnam Leaves Lasting Impact on Tech Students, Faculty
Extending warm hands and generous smiles, the Vietnam Center at Texas Tech continues its mission of partnership and diplomacy between the U.S. and Vietnam.
Research/Academic Showcase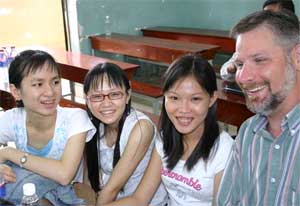 Christopher Trobridge, TTU graduate student in history, visits with students at the University of Social Sciences and Humanities, Vietnam National University Ho Chi Minh City.
History cannot exist solely in text and lecture. That was the lesson brought home by a delegation of Texas Tech students and faculty who recently toured Vietnam and Cambodia in an effort to breathe life and blood into their academic studies of the region.
The delegation included seven students, all recipients of the Lee Roy Herron Scholarship.  They departed Lubbock July 12 for a three-week trip that took them through Vietnam and Cambodia where they met educators and students and gained a rare perspective into these oft-misunderstood and mischaracterized nations.
Sean Scribner, a senior history and political science major, joined the delegation knowing the experience would extend his understanding of culture and politics in Southeast Asia.
"Since high school I've had at least an amateur interest in this part of the world," he says. "When I came to Texas Tech, I took a job working at the Vietnam Archive just to be close to the history. When the opportunity for this trip came up, I jumped at it the first chance I had. To actually see and feel this area that I've studied for so long was beyond anything I had ever imagined myself doing."
A Time for Honoring Memories
For Dr. Ron Milam, a visiting assistant professor in the History Department and a scholar of the Vietnam War, trips to Vietnam can be especially poignant. A Vietnam veteran, he now dedicates his life to studying the region and says he has witnessed a dramatic cultural evolution.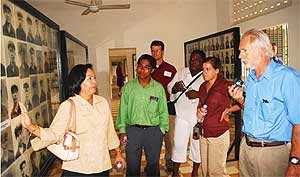 Dr. Ron Milam (far right) and others from the TTU delegation listen intently as Ms. Sopphea, their guide at Toul Sleng Prison, discusses the horrific atrocities that took place there. Ms. Sopphea lost her entire family – both parents and all siblings – to the Khmer Rouge genocide.
"Their culture now seems to be following capitalist patterns," he says. "Communism there seems to exist more in theory than anything else. There seems to be a great deal of free trade and free market in the town shops, for example. The people we met there seem to have an understanding of American culture, but they don't understand our education system. Many of the younger people we met wanted to know how our colleges and universities work, and how our students live and study."
The group visited Cambodia, where they toured the infamous Killing Fields. Students learned about the genocidal campaign led by Pol Pot and visited the Bone Pagoda at Cheong Ek, a monument displaying several thousand human skulls carefully arranged by age and gender. Their Cambodian guide recounted the loss of both her parents and all of her siblings as she pointed to pictures of both the slain and their executioners – evidence of the meticulous and gruesome records maintained by the Khmer Rouge.  The group also visited Siem Reap and the magnificent ancient ruins at Angkor Wat.
Pushing Toward a New Future
While in Cambodia, the delegation presented 42 scholarships to students at the Royal University of Phnom Penh.  The Cambodian Student Scholarship Fund at Texas Tech has already assisted an additional 30 students who have successfully graduated from the Cambodian school. These modest scholarships of $125 per year are sufficient to cover their room and board for one year.  The Vietnam Center also distributed 41 similar scholarships to students at universities in Vietnam, bringing the number of Vietnamese students assisted to 500.
"In the years ahead, some of these Vietnamese and Cambodian students will assume positions of influence in their countries, and they will know they are there partly because of the generosity of Texas Tech University," says Dr. James Reckner, director of the Vietnam Center. "In this context, I believe these scholarship programs are exceedingly important.  They are fully funded by private donations from the people of Lubbock and other friends of the Vietnam Center."
Milam points out that many of the scholarships are also donated by veterans of the Vietnam War.
"These are students who wouldn't go to college otherwise," he says. "When we give them the money, which goes directly to the students, we get an immediate sense of intense appreciation. You get a sense that they have a deep appreciation for Texas Tech. We're showing we have an interest in their countries and their futures."
Texas Tech student travel was made possible by David Nelson and the Lubbock High School graduating class of 1963 who founded a scholarship as a living tribute to their friend and fellow classmate, Lee Roy Herron, and by a generous grant from the Houston Endowment.  After high school, Nelson and Herron joined the Marine Corps' officer training program at Texas Tech University. After graduating from Texas Tech, Herron served in Vietnam where he was killed in battle after single-handedly destroying an enemy machine-gun bunker. Herron was posthumously awarded the Navy Cross, the second highest honor given by the Marines for bravery.
Since 2002, the Lee Roy Herron Scholarship has assisted 13 Texas Tech students who have traveled to Vietnam and Southeast Asia.
For more information, visit the Texas Tech University Vietnam Center and Archive Web site.
Video
Warning: include(): http:// wrapper is disabled in the server configuration by allow_url_fopen=0 in D:\www\texastech\newsletter\stories\06Sep\vietnam.php on line 54 Warning: include(http://www.texastech.edu/scripts/emailArticle/include.php): failed to open stream: no suitable wrapper could be found in D:\www\texastech\newsletter\stories\06Sep\vietnam.php on line 54 Warning: include(): Failed opening 'http://www.texastech.edu/scripts/emailArticle/include.php' for inclusion (include_path='.;D:\php5_6\includes;D:\php5_6\extras;D:\php5_6\pear;D:\php5_6;D:\www;D:\www\include') in D:\www\texastech\newsletter\stories\06Sep\vietnam.php on line 54