Research/Academic Showcase
Alumni Highlights
Development
Athletics
Texas Tech University Press
Helpful Links
Texas Tech Researchers Find Elevated Arsenic and Lead Levels in New Orleans
Just over a year after Hurricane Katrina ravaged New Orleans and the Gulf States region, Texas Tech researchers continue to find toxic chemicals in the Big Easy's neighborhoods.
Research/Academic Showcase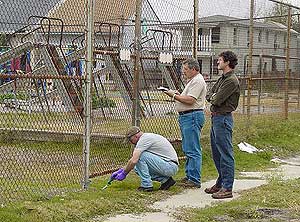 TIEHH researchers Les McDaniel, left, takes soil samples while Galen Austin, center, records the location of the samples near a playground in a New Orleans neighborhood. A reporter from the Times-Pacayune looks on.
One year after their original trip to the Big Easy, researchers from The Institute of Environmental and Human Health have once again published their findings in The American Chemical Society's peer-reviewed journal, Environmental Science and Technology.
Their original study, published on Dec. 14, 2005, reported unsafe levels of lead in soil and sediments left behind in New Orleans following Hurricane Katrina that could pose a heightened health threat to returning residents. Some soil samples collected from the area contained lead levels as much as two-thirds higher than what the U.S. Environmental Protection Agency considers safe.
In their second study of soil and sediment left behind in the wake of Hurricane Katrina, 40 of 43 arsenic samples exceeded EPA standards and some lead samples exceeded the EPA's safety standards by more than four times.  The study was published in the Aug. 15 edition of Environmental Science & Technology.
Researchers took samples at 43 sites around the city, including the Sixth and Ninth Wards and areas near an industrial canal and the Superdome, says George Cobb, research team leader.
"We confirmed that the majority of metals were not present at concentrations that suggest a widespread and immediate need for concern," Cobb says. "However, arsenic and lead did frequently exceed the EPA's criteria for assessing human health risks. This poses difficult policy decisions for the regulatory community."
The new study both confirms and expands on earlier findings. For instance, flooding after Hurricane Rita neither redistributed toxic metals in some areas of the city nor washed them away.
As plans for rebuilding move ahead, more focused sampling should be done at the neighborhood level, the study stated, to identify specific hot spots in need of capping or other measures to prevent dangerous exposures.
Related Links
TTU New Orleans Pollution Microsite
The Institute of Environmental and Human Health
Read Full Text Article in Environmental Science & Technology Research ASAP original article abstract.
Warning: include(): http:// wrapper is disabled in the server configuration by allow_url_fopen=0 in D:\www\texastech\newsletter\stories\06Sep\new-orleans-pollution.php on line 54 Warning: include(http://www.texastech.edu/scripts/emailArticle/include.php): failed to open stream: no suitable wrapper could be found in D:\www\texastech\newsletter\stories\06Sep\new-orleans-pollution.php on line 54 Warning: include(): Failed opening 'http://www.texastech.edu/scripts/emailArticle/include.php' for inclusion (include_path='.;D:\php5_6\includes;D:\php5_6\extras;D:\php5_6\pear;D:\php5_6;D:\www;D:\www\include') in D:\www\texastech\newsletter\stories\06Sep\new-orleans-pollution.php on line 54