Research/Academic Showcase
Alumni Highlights
Development
Athletics
Texas Tech University Press
Helpful Links
Protect Our House
Texas Tech's student athletes face a long list of NCAA rules, but so do the fans. Learn the ABC's of compliance.
Athletics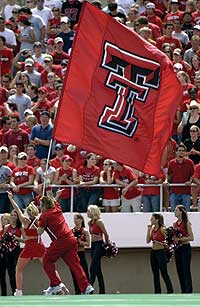 Compliance is the cornerstone of the TTU Athletic Program.
The 2006 Red Raider football season got underway with wins over SMU and UTEP. With the beginning of football season, the Texas Tech Athletic Department wants to make sure fans understand the rules about what a student athlete can and cannot do.
"The Texas Tech Athletic Department motto for this year is Protect Our House," said Dr. Robert Baker, the university's faculty athletics representative. "As it relates to athletics, compliance is the cornerstone of making sure the program is protected and that the house is in order." 
The campaign borrows the athletic department's slogan and is designed to make sure that everyone from players to students to fans is responsible for making sure that Texas Tech complies with NCAA and Big 12 rules.
Rules Not Just for Players
"These rules apply to all student athletes, not just football players," said Jennifer Brashear, compliance director for the athletic department. "From our head coaches to the student athletes, our students, faculty, staff and fans, everyone should know the rules. A small, well-meaning act can land a player or the whole program in trouble."
"Remember it is against NCAA regulations for a representative of an institution's athletic interests, and that includes boosters, to have any contact with a prospective student-athlete," said Leach. "This includes telephone calls, letters and in-person contact. Any violation of these regulations could result in potentially severe penalties, such as the prospect being prohibited to participate in athletics at Texas Tech and additional penalties that could include loss of scholarships, a bowl ban and television ban."
Play Fair
Texas Tech President Dr. Jon Whitmore encourages fans to read up on the rules. "We have the best fans in the country. It's extremely important that Texas Tech has a strong compliance program. While we want to win every game, we want to make sure that we do so by playing by the rules."
A booster is defined as anyone who is or has ever been a member of a booster organization that supports Texas Tech athletics; has made any financial contributions to any area of the university; has made any annual or lifetime membership commitment to a booster organization; is or has ever been involved with the recruitment of a prospect; has provided or is providing benefits to an enrolled student-athlete or their relatives or friends; provided or helped arrange employment for student-athletes; is the parent of a student-athlete; is or has ever been a season ticket holder; or has otherwise been involved in promoting Texas Tech athletics. 
No Extras Allowed
Another key area of concern is the rule against student athletes receiving extra benefits.
"The no-extra-benefits rule is extremely important and has been in the news a lot recently," said Brashear. "Student athletes cannot receive any thing that is not available to any other student. For example, if there are three students working for an apartment complex and one is a student athlete, the owner or manager cannot give the student athlete a ride to work if he or she is not doing the same for the other two students."
The athletic department encourages everyone to help "Protect Our House" by knowing the ABC's of compliance.  Learn your Compliance ABC's. If you have any questions concerning NCAA regulations, do the right thing and contact the Texas Tech Compliance Office at (806) 742-3355. 
Warning: include(): http:// wrapper is disabled in the server configuration by allow_url_fopen=0 in D:\www\texastech\newsletter\stories\06Sep\compliance.php on line 54 Warning: include(http://www.texastech.edu/scripts/emailArticle/include.php): failed to open stream: no suitable wrapper could be found in D:\www\texastech\newsletter\stories\06Sep\compliance.php on line 54 Warning: include(): Failed opening 'http://www.texastech.edu/scripts/emailArticle/include.php' for inclusion (include_path='.;D:\php5_6\includes;D:\php5_6\extras;D:\php5_6\pear;D:\php5_6;D:\www;D:\www\include') in D:\www\texastech\newsletter\stories\06Sep\compliance.php on line 54