Home /
Texas Tech Celebrates New Student Housing Complex
Texas Tech Celebrates New Student Housing Complex
The West Village offers 455 beds and a retail and food service facility.
Aug. 7, 2014 | Written by Jaryn Kilmer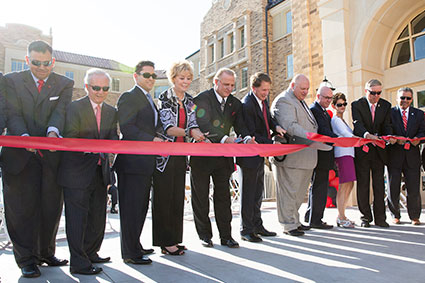 TTU System officials cut ribbon at West Village opening.

---
Texas Tech University celebrated today (Aug. 7) the completion of the West Village student housing complex with an official ribbon-cutting ceremony.
Located east of Knoxville Avenue in the triangle bounded by 19th Street and Texas Tech Parkway, the 234,501-square-foot complex offers a choice of 61 one-bedroom units, 47 two-bedroom units and 75 four-bedroom units ideally structured for upperclassmen and graduate students.
"This beautiful facility represents the growth of our great university and the increased demand students have for a Texas Tech education," said Texas Tech President M. Duane Nellis said. "Our growth is a testament to the passion our faculty have for teaching our students, the invaluable support our staff provides and the dedication our students have to their academic endeavors."
The complex officially will open its doors for residents Aug. 16, with all 455 beds occupied for the fall semester. There are nine community lounges, two conference rooms, as well as designated study rooms and office space. Building B features a washer and dryer in each unit, and all units in the complex include full kitchens.
The two-building community features a pedestrian walkway that connects the two areas, which are positioned around courtyards and outdoor green zones. The community also features Raider Exchange, a 3,126-square-foot retail and food service facility.
"In order to continue our mission to excel academically, student housing is just one of the resources we need to best accommodate our students at Texas Tech," said Chancellor Robert Duncan. "We are thrilled our campus is expanding, and proud to offer alternative housing options to our growing number of students."
The complex was designed to meet Leadership in Energy & Environmental Design (LEED) certification, meaning designers and contractors implemented a sustainable building design and worked to be sure maintenance of the building is environmentally responsible.
The West Village student housing complex offers 455 total beds and a retail and food service facility.
"The true success of the design and construction lies within the team we developed and the use of creative building technologies and work sequencing," said Michael Molina, vice chancellor for Facilities Planning and Construction. "This group was able to accomplish a challenging task of synthesizing Texas Tech's needs with a very innovative solution within only a 16-month period."
The $54.8-million project was approved by the Texas Tech University System Board of Regents at the December 2012 meeting and features landscape enhancements as well as public art.
The project was managed by Texas Tech's Facilities Planning and Construction department under the leadership of Molina and with Denise Hostick serving as project manager. Barnes Gromatzky Kosarek Architects and Mackey Mitchell Architects designed the complex as part of the project team, which also included Whiting-Turner Contracting Company.
About the Texas Tech University System
The Texas Tech University System is one of the top public university systems in the state of Texas, consisting of four component institutions — Texas Tech University, Texas Tech University Health Sciences Center, Angelo State University and Texas Tech University Health Sciences Center at El Paso — and operating at 12 academic sites and centers. Headquartered in Lubbock, Texas, the TTU System has an annual operating budget of $1.7 billion and approximately 17,000 employees focused on advancing higher education, health care, research and outreach.
In 2013, the TTU System's endowment passed $1 billion, total research expenditures were approximately $200 million and total enrollment exceeded 44,000 students. Whether it's contributing billions of dollars annually in economic impact or being the only system in Texas to house an academic institution, law school, and medical school at the same location, the TTU System continues to prove that anything is possible.