Home /
Looking to Lead: Chancellor Duncan Reflects on First Months, Future of TTU System
Looking to Lead: Chancellor Duncan Reflects on First Months, Future of TTU System
Chancellor Duncan sits down for a discussion on his first months on the job and outlines ideas for the future of the TTU System.
February 26, 2015 | Written by Doug Hensley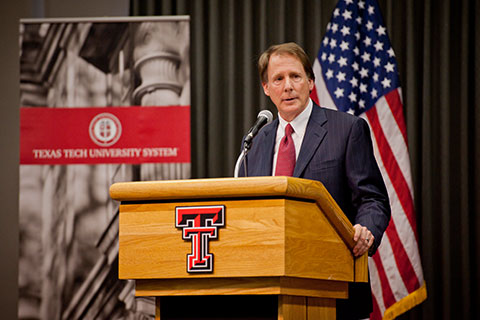 Robert L. Duncan began as the fourth chancellor of the Texas Tech University System on July 7, 2014.
---
After just more than six months on the job, Robert L. Duncan, Texas Tech University System chancellor, sees only one direction to move – forward. Having had time to listen and learn, Duncan is focusing on another word – leading.
"The first months here have confirmed what I already knew," he said. "We've inherited a good ship. The job now is moving to the next level, but the question has always been, 'What's the next level?'"
Part of the answer lies within the strategic plan adopted by the Board of Regents. The plan outlines an ambitious series of priorities meant to position the TTU System for continued greatness by 2020.
"Our job is to provide leadership and guidance to meet these goals, all of which I agreed with when I first saw them during my time in the Texas Senate," Duncan said. "We have to identify and craft the metrics for us to reach these goals."
The five strategic priorities for each university in the TTU System are:
Increase Enrollment and Promote Student Success
Strengthen Academic Quality and Reputation
Expand and Enhance Research and Creative Scholarship
Further Outreach and Engagement
Increase and Maximize Resources
Continued success in the five priorities will continue to raise the TTU System's national profile.
"We are nationally competitive right now," Duncan said. "But we want to become more competitive for students, faculty and research to enhance the quality of our product."
Duncan said focusing on these goals with a deliberate and systematic approach will make an already great TTU System even better.
"Reaching these goals will be a lofty achievement," he said. "And we can reach them, but we must stay on course. It's hard to get anywhere if you're constantly changing the destination. We should focus on these strategic goals, track our progress and continually ask if we're meeting our expectations."
---

We are nationally competitive right now. But we want to be more competitive...

Chancellor Robert L. Duncan, Texas Tech University System

---

The Board of Regents will meet with Duncan and each university's president in March to review and update progress in meeting the TTU System's strategic goals. The work will take place during the board's upcoming meeting at Angelo State University on March 5-6.

"The upcoming board meeting is a chance to address and assess where we are with our strategic plan," Duncan said. "We will evaluate where we are and how to improve to reach these goals relative to each of our component institutions."
Also among the chancellor's priorities is a continued emphasis on ensuring success for each individual university across the TTU System.
"I think the key is how the system can support our four universities in reaching their goals," he said. "There is a unique opportunity with regard to our two health-related institutions and their missions. The Texas Tech University Health Sciences Center in Lubbock awards more degrees than any other health-related institution in the state.
"We have an institution in El Paso, Texas Tech University Health Sciences Cent El Paso, perfectly positioned to provide education and service in an urban area on an international border. And at Angelo State University, we have an institution with the ability to provide a Carr Academic Scholarship to more than one in every three students there, making a first-class education more accessible and more affordable to more students than ever before."
Likewise, the chancellor will be zeroed in on fundraising. He recently named a new vice chancellor for institutional advancement, which is a key move for the TTU System's philanthropic efforts.
"I want to see sustained philanthropy across the system and empower more people to participate with us in our fundraising," he said. "We need to continue to expand our national footprint. The truth of the matter is, if we want all of our institutions to excel, we have to help ourselves get there."
Toward that end, Duncan named Lisa Calvert to the institutional advancement position in early January. Calvert has a robust background in higher education fundraising and comes to the TTU System from Purdue.
"Our fundraising teams across the system have done incredible work," Duncan said. "I've been proud of their efforts and their energy, and I'm looking forward to what the future holds for the Texas Tech University System."
About the Texas Tech University System
The Texas Tech University System is one of the top public university systems in the nation, consisting of four component institutions—Texas Tech University, Texas Tech University Health Sciences Center, Angelo State University and Texas Tech University Health Sciences Center El Paso—and operating at 12 academic sites and centers. Headquartered in Lubbock, Texas, the Texas Tech University System has an annual operating budget of $1.7 billion and approximately 17,000 employees focused on advancing higher education, health care, research and outreach.
In 2014, the Texas Tech University System's endowment exceeded $1 billion, total research expenditures were approximately $200 million and total enrollment approached 47,000 students. Whether it's contributing billions of dollars annually in economic impact or being the only system in Texas to house an academic institution, law school, and health institution at the same location, the Texas Tech University System continues to prove that anything is possible.