Home /
Message Announcing JuliAnn Mazachek as Sole Finalist for Midwestern State University President
Message Announcing JuliAnn Mazachek as Sole Finalist for Midwestern State University President
---
March 7, 2022
Dear Midwestern State University family,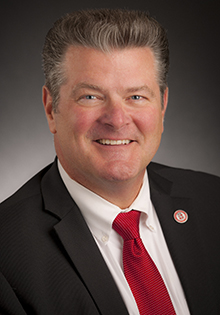 Tedd L. Mitchell, M.D.

---
I hope this note finds you well as I write to share some important news for the future of Midwestern State University, the Mustangs family, and our continued work together in higher education.
Since last September, we've been conducting a national search for the next President of Midwestern State University — led by a 12-person committee consisting of MSU Texas, Wichita Falls and Texas Tech University System constituencies — to recruit and identify a visionary and innovative leader.
This morning, the TTU System Board of Regents voted unanimously to name a finalist for the position, and it is with pride and enthusiasm that I announce JuliAnn Mazachek, Ph.D., as the sole finalist for the presidency of MSU Texas.
Dr. Mazachek is currently the vice president for academic affairs, chief academic officer and a tenured associate professor at Washburn University, a four-year public university in Topeka, Kansas, with approximately 6,700 students and more than 200 courses of study.
This announcement follows a collaborative, extensive search process that resulted in the committee's unanimous recommendation, and ultimately, my recommendation of Dr. Mazachek and today's action from the Board of Regents.
Dr. Mazachek's higher-education tenure is phenomenal by any standard. Her breadth of experience spans three decades and includes an impressive record of progression serving as a faculty member, dean, and chief academic officer at the university, as well as president and CEO of the Washburn University Foundation.
She is both a champion for the liberal arts education as well as someone committed to expanding educational access. A first-generation college graduate, her passion and previous success focuses on a student-centered mission that supports scholarship, achievement and access to transformational educational opportunities.
A proven and visionary leader, Dr. Mazachek is a proactive collaborator who has effectively demonstrated throughout her career how substantial growth and lasting change can be created through strategic planning and execution. She believes in a values-based culture and is excited to continue the momentum MSU Texas has created with its values journey.
Originally from Kansas, Dr. Mazachek has family ties throughout this region of Texas and strong family connections to the United States Air Force that I know will be helpful to MSU Texas and the Wichita Falls community.
I sincerely appreciate the time and dedication from the search committee in identifying someone who understands and embraces the MSU Texas culture and can help guide its future. I am especially grateful to Regent Mark Griffin, who served as chairman and provided commendable leadership throughout this search.
As we near the completion of this process, state law requires that once a sole finalist has been named, 21 days must pass before final action can be taken on employment. Following the 21-day period, an official appointment will be made. Plans outlining a smooth and successful transition of leadership, which will be aligned with the conclusion of the spring semester, will be shared following the official appointment.
Please join me in thanking the search committee for their hard work. I look forward to joining you soon as we celebrate the appointment of the 12th president of MSU Texas and wish you the best during this time. If you have any questions, please do not hesitate to reach out to me or my office.
Warmest regards,
Tedd L. Mitchell, M.D.
Chancellor, Texas Tech University System