Home /
Midwestern State University Presidential Search Committee Announced
Midwestern State University Presidential Search Committee Announced
March 1, 2023 | Contact: Scott Lacefield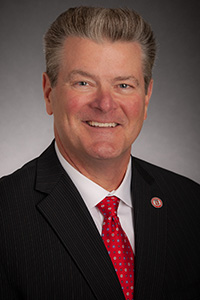 Tedd L. Mitchell, M.D.

---
The Texas Tech University System (TTU System) Board of Regents and Chancellor Tedd L. Mitchell, M.D., announced a search committee today (March 1) charged with assisting in the search for the next president of Midwestern State University (MSU Texas).
"Midwestern State University is experiencing an exciting time in its history of providing the North Texas region an unrivaled educational experience," Mitchell said. "MSU Texas has positive momentum as the leading liberal arts institution in our great state and with more than 100 years of dedication to developing our leaders of tomorrow. This great university has brought significant value to the Texas Tech University System in a short period of time, and we look forward to showcasing all the wonderful things happening in the Mustangs family as we find the university's next president."
The 11-member committee is led by Ginger Kerrick Davis, vice chairwoman and current member of the TTU System Board of Regents. Kerrick Davis has served the Board of Regents as chairwoman of the Academic, Clinical and Student Affairs Committee and as a member of the Regents' Rules Review Committee. She also previously served on the MSU Texas Presidential Search Committee in 2021.
"On behalf of the Texas Tech University System Board of Regents, I am honored and privileged to lead this committee as we accept this critically important charge of working collaboratively to recruit and identify candidates to be the next great leader of Midwestern State University," Kerrick Davis said. "This effort will be driven by members of the MSU Texas community. Through this committee, the stakeholders of this well-respected and distinguished institution will guide our work, which is to find a leader who will position MSU Texas for greatness for generations to come."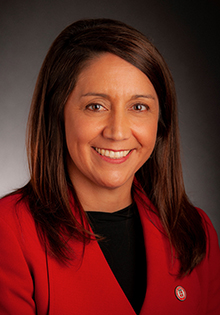 Regent Ginger Kerrick Davis

---
A national search will be conducted in pursuit of the next MSU Texas president. The committee will help identify potential candidates, assist with initial screenings, and ensure their respective constituency groups are kept updated on the progress of the search. Candidate recommendations will be forwarded to the chancellor and the Board of Regents to make the final appointment of president.
The search committee consists of representation from multiple MSU Texas and TTU System constituencies, including regents, former regents, faculty, students, deans, staff, donors, alumni and community members. They will first meet later this week, at which time the presidential search will commence. An executive higher education search firm also will be retained to assist in the process and ensure a highly qualified candidate pool.
Keith Lamb, Ph.D., vice president for enrollment management and student affairs and chief strategy officer at MSU Texas, was appointed interim president in January 2023. His appointment follows JuliAnn Mazachek's departure to become the president of Washburn University, where she served for 30 years in higher education prior to her appointment as the 12th president of MSU Texas in March 2022.
About the Texas Tech University System
Established in 1996, the Texas Tech University System is one of the top public university systems in the nation, consisting of five universities – Texas Tech University, Texas Tech University Health Sciences Center, Angelo State University, Texas Tech University Health Sciences Center El Paso and Midwestern State University.
Headquartered in Lubbock, Texas, the TTU System is a $2.65 billion enterprise focused on advancing higher education, health care, research and outreach with approximately 21,000 employees and 63,000 students, more than 375,000 alumni, a statewide economic impact of $16.4 billion and an endowment valued at $1.7 billion. In its short history, the TTU System has grown tremendously and is nationally acclaimed, operating at 24 academic locations in 21 cities (19 in Texas, 2 international).
In addition, the TTU System is one of only nine in the nation to offer programs for undergraduate, medical, law, nursing, pharmacy, dental and veterinary education, among other academic areas.