Pat Gordon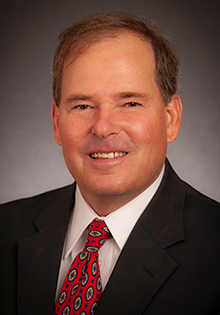 Mr. Pat Gordon of El Paso, Texas, was appointed by Gov. Greg Abbott to the Board of Regents of the Texas Tech University System on April 13, 2021. He currently serves as vice chairman of the Academic, Clinical and Student Affairs Committee, and he is a member of the Regents' Rules Review Committee. His term expires on Jan. 31, 2027.
Gordon is the president of Gordon Davis Johnson & Shane P.C., is a partner and attorney of practice whose focus is business, corporate and tax law. He advises on issues concerning business sales and acquisitions as well as domestic and international tax law.
In 1994, Gordon became partner at Gordon Davis Johnson & Shane P.C. His extensive legal experience has led to authorship or co-authorship to multiple publications and speaking engagements.
He is board-certified in tax law by the Texas Board of Legal Specialization and is a certified public accountant. He is a member of the State Bar of Texas and has served as the Texas Commissioner for the Rio Grande Compact Commission for more than 15 years. He is currently a board member and vice chairman of the El Paso Children's Hospital board, and also served as a past chairman of the board. He also was a former board member of the Texas Department of Housing and Community Affairs. He is a member of the El Paso/Juarez Chapter of the Young Presidents' Organization.
He has two degrees from TTU, earning a master's degree in business administration from the Rawls College of Business and a Juris Doctor from the TTU School of Law. Gordon and his wife, Laura, also a TTU law school graduate, established the Pat and Laura Gordon Endowed Scholarship at the TTU law school in 2006. Gordon earned his bachelor's degree in finance from Texas A&M University. Gordon received high honors for all three degrees earned.
Outside of the office, Gordon enjoys traveling the world to climb mountains and scuba dive. With a heart for animal rescue, Gordon and his wife have six rescue dogs, including four Chihuahuas, many of whom can regularly be found at his law office.