Research/Academic Showcase
Campus Connection
Alumni Highlights
Development
Athletics
Other
Helpful Links
Stay Connected
Is spam filling up your in box? Are important messages MIA?
Look to the junk filter in your e-mail for help.
For common e-mail software packages, the Junk E-mail Filter is turned on by default, and the protection level is set to Low. This level is designed to catch only the most obvious junk e-mail messages. You can make the filter more aggressive, but if you do it may catch legitimate messages.
Any message that is caught by the Junk E-mail Filter is moved to a special Junk E-mail folder.
You should review messages in the Junk E-mail folder from time to time to make sure that they are not legitimate messages that you want to see.
The most reliable way to ensure that you receive legitimate messages is by building a "safe senders" list.  This is typically done by right-clicking on the senders address. See the Outlook example below.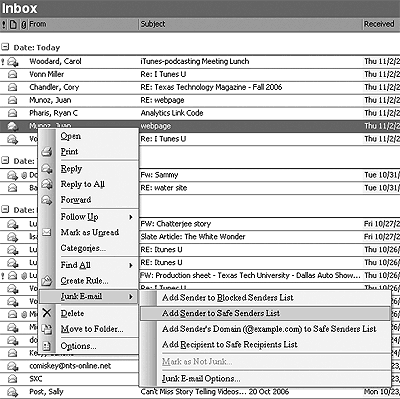 Make sure you're not missing any issues of Texas Tech Today by checking your junk mail filter today!
Warning: include(): http:// wrapper is disabled in the server configuration by allow_url_fopen=0 in D:\www\texastech\newsletter\stories\06Nov\junk-email.php on line 54 Warning: include(http://www.texastech.edu/scripts/emailArticle/include.php): failed to open stream: no suitable wrapper could be found in D:\www\texastech\newsletter\stories\06Nov\junk-email.php on line 54 Warning: include(): Failed opening 'http://www.texastech.edu/scripts/emailArticle/include.php' for inclusion (include_path='.;D:\php5_6\includes;D:\php5_6\extras;D:\php5_6\pear;D:\php5_6;D:\www;D:\www\include') in D:\www\texastech\newsletter\stories\06Nov\junk-email.php on line 54