Research/Academic Showcase
Campus Connection
Alumni Highlights
Development
Athletics
Other
Helpful Links
Texas Tech Alumni Association Endorses Raider Ranch
Calling all Red Raider retirees, a new community just for you is under construction in Lubbock.
Alumni Highlights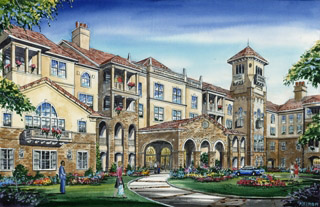 Artist Rendition of Raider Ranch
The Texas Tech Alumni Association is excited about a new retirement community called Raider Ranch, which will be built in Lubbock. 
The association has agreed to endorse and support this project, one that is long overdue for the West Texas area, says Bill Dean, executive vice president of the Texas Tech Alumni Association
"We believe that Raider Ranch, LLC, is committed to making this a retirement community that will greatly enhance the quality of life for its residents," says Dean.
The agreement also benefits the Alumni Association as it will use the revenue received from its participation in the program to fund Texas Tech scholarships, the university's greatest need.
Raider Ranch is offering independent living properties for sale. The community provides a new option in retirement living not only in Lubbock, but also around the country through other developments. You can purchase a condo unit or a stand-alone villa in the same manner that one would purchase any other home. In addition, the entire campus is maintenance-free.
Residents of Raider Ranch will be offered independent and assisted living arrangements.  The independent living areas will be in two styles:
Condo Living
830 - 1400 Sq. Ft.
Starting from $180,000

Villa Living
1600 - 2500 Sq. Ft.
Starting from $250,000
The assisted living units will be developed as separate facilities and will be offered on a monthly rental basis to residents.
All residents of Raider Ranch will be offered a full list of services included in this package.  The services will be based out of the Community Center Building, which is also the center point of the main condo building. The association will work closely with Raider Ranch, LLC, to make sure that the experience will be a positive one.
The Alumni Association encourages you to investigate the possibility of reserving a spot for your retirement home in Raider Ranch.
For more information go to www.raiderranch.com, call (806) 368-6565 (local) or (866)-368-6565 (toll free), e-mail  info@raiderranch.com or stop by the Raider Ranch, LLC, office located at 1500 Broadway, Suite 1120, Lubbock, TX 79401.