Research/Academic Showcase
Campus Connection
Alumni Highlights
Development
Athletics
Other
Helpful Links
Alumni Association Sets Class Ring Ceremonies
Wear the symbol of a very exclusive club, Texas Tech graduates.
Alumni Highlights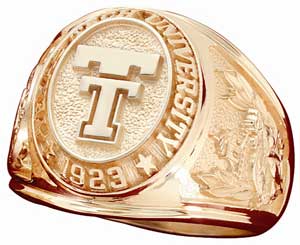 The ring features the Administration Building with the bells that represent victory; the university seal, which features an American eagle perched above a book, representing a church; a star, representing the State of Texas; a key, representing home; and a lamp, representing knowledge. These elements are separated by a cross featuring 10 cotton bolls representing Lubbock and its surrounding nine cotton-producing counties. Of course the ring would not be complete without the Double T and the Masked Rider!
Since 1999, Texas Tech has had one universal symbol of academic achievement, the Official Texas Tech Alumni Association Class Ring.
The single ring is a tradition that has been brought back from the 1950s. The ring is a symbolic, continuous link with classmates, friends and generations of alumni.
It evokes special memories of the traditions of Texas Tech: the "Fight Song" sung at the stadium; the Masked Rider racing along the sidelines; Raider Red giving fans the "Guns Up" and firing his shotguns and the unforgettable images created during the Carol of Lights.
The unique ring design is copyrighted to protect it from duplication. The ring is reserved exclusively for individuals who have successfully met the university's standards for graduation. Designed by a group of Texas Tech students, alumni and administrators, the ring will remain unchanged. As a symbol of Texas Tech, it is instantly recognizable a statement that the wearer is a Red Raider for life.
Texas Tech President Jon Whitmore will present rings to students at the Fall 2006 Official Ring Ceremonies on Nov. 27, 28 and 29.
All three ceremonies will be held at the Merket Alumni Center.
Monday, November 27, 2006
College of Arts & Sciences
College of Mass Communications
Health Sciences Center
Tuesday, November 28, 2006
College of Architecture
Rawls College of Business Administration
College of Visual & Performing Arts
Wednesday, November 29, 2006
College of Agriculture Sciences & Natural Resources
College of Education
College of Engineering
College of Human Sciences