Research/Academic Showcase
Campus Connection
Alumni Highlights
Development
Athletics
Other
Helpful Links
Texas Tech Professor Named Award Finalist for Book of Short Stories
Stephen Graham Jones helps readers understand and envision the continued prejudices against American Indians in his recent book of short stories.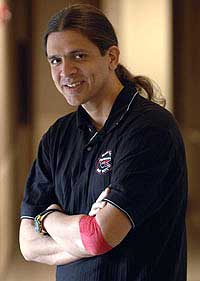 Stephen Graham Jones. Visit www.stephengrahamjones.net, his official Web site.
Written by Gretchen Pressley
Stephen Graham Jones, an assistant professor of English at Texas Tech, was recently named a finalist of the Violet Crown Award in fiction for his fourth book, called "Bleed into Me: A Book of Stories."
Jones' book is comprised of 16 short stories, each offering an aspect of life as told from the viewpoint of a young American Indian living in modern America. Each story gives vivid detail about circumstances and prejudices that accompany American Indians living in America.
Most of the stories are autobiographical and take place in or around a reservation, says Jones, a noted Blackfeet author. "Bleed into Me" was published in September 2005 by the University of Nebraska Press.
The Violet Crown Award, sponsored by the Writers League of Texas, honors outstanding published books written by members, according to their Web site.
Authors submit their books into one of three categories: fiction, non-fiction, and poetry. A series of judges then rates each category, says John Pipkin, the executive director of the league. Only three finalists are chosen from each category from about 150 book entries per year.
"I don't think we really have a certain criteria for judging," says Pipkin. "But we definitely look for originality, a unique or strong voice, and good storytelling."
Jones attended a panel discussion and award ceremony on Oct. 28 at the 2006 Texas Book Festival in Austin, where he also promoted his latest book, "Demon Theory."
Jones's book also earned the 2005 Jesse Jones Award for Best Work of Fiction from the Texas Institute of Letters earlier this summer.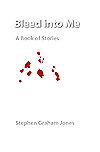 "Bleed into me" as well as many other books by Stephen Graham Jones can be purchased at Amazon.com.
Warning: include(): http:// wrapper is disabled in the server configuration by allow_url_fopen=0 in D:\www\texastech\newsletter\stories\06Nov\stephen-jones.php on line 54 Warning: include(http://www.texastech.edu/scripts/emailArticle/include.php): failed to open stream: no suitable wrapper could be found in D:\www\texastech\newsletter\stories\06Nov\stephen-jones.php on line 54 Warning: include(): Failed opening 'http://www.texastech.edu/scripts/emailArticle/include.php' for inclusion (include_path='.;D:\php5_6\includes;D:\php5_6\extras;D:\php5_6\pear;D:\php5_6;D:\www;D:\www\include') in D:\www\texastech\newsletter\stories\06Nov\stephen-jones.php on line 54