Arcilia Acosta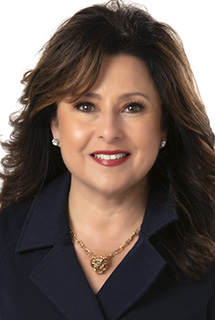 Ms. Arcilia Acosta of Dallas was appointed by Gov. Greg Abbott to the Board of Regents of the Texas Tech University System on April 13, 2021. She currently serves as vice chairwoman of the Audit Committee. Her term expires on Jan. 31, 2027.
Acosta is the president and CEO of CARCON Industries and Construction and the founder and CEO of Southwestern Testing Laboratories (STL) Engineers. She is a celebrated 30-year business veteran, entrepreneur, nationally recognized speaker, philanthropist and mother.
Acosta has held board-level positions with some of Texas' most successful corporations. From 2013 until it was acquired in 2019, she served as a member of the Board of Directors of Legacy Texas Financial Group, N.A., a bank holding company with an asset size of more than $9 billion. In 2018, Acosta joined the board of ONE Gas Inc., a stand-alone, 100% regulated, publicly traded natural gas utility and one of the largest natural gas utilities in the U.S.
She also serves on the board of directors of Vistra Corp., Magnolia Oil & Gas and Veritex Holdings, Inc. She is a member of the National Women Energy Directors Network, the International Women's Forum and a sustaining member of the Junior League of Dallas. In 2019, she became a board member of the Communities Foundation of Texas. For more than a decade, she has been a board member of the Dallas Citizens Council and, in 2023, will become the chairwoman of the council. Previously, she served on the board of TPG Pace Energy Holdings Corp., and for more than 10 years, on the board of Energy Future Holdings Corp.
In 2021, Acosta received D Magazine's Excellence in Construction & Engineering Award at the D CEO Commercial Real Estate Awards. For three years in a row, she has been named one of the top 100 Influential Women in the U.S. by Latino Leaders magazine. In 2022, Acosta will be inducted into the Junior Achievement of Dallas Business Hall of Fame.
Hispanic Executive Magazine named her Top Corporate Director, and she was featured by Latino Leaders Magazine as one of the Top Corporate Directors of Fortune 500 companies for five consecutive years. Recently, Acosta was featured in Latino Leaders Magazine's Top 20 Latinos in Energy issues.
Her companies have won more than 45 national, region and local awards. In 2013, Acosta was inducted into the National Women's Business Enterprise Hall of Fame. In 2017, she was an honoree at the Each Moment Matters Luncheon for her philanthropy and community support on projects throughout Texas. In 2018, Acosta received the "Maura Women Helping Women Award" by the Texas Women's Foundation and was named "Woman of Distinction" by the Girl Scouts of Northeast Texas.
At the beginning of the COVID-19 pandemic, Gov. Abbott appointed Acosta to the Strike Force to Open Texas. She is one of the 40 members from across the state appointed to the special advisory council.
Previously, Acosta was appointed by Gov. Abbott for a three-year term on the Texas Higher Education Coordinating Board (THECB) in 2016-19, which is the state's authority on public higher education.
Acosta is a former director of the Texas Tech Alumni Association's National Board of Directors. In addition, she was the featured speaker for Texas Tech University's 2015 Commencement Ceremonies.
She graduated from TTU in 1989 with a bachelor's degree in political science from the College of Arts & Sciences. She also earned a Bank Board Director Certification from Southern Methodist University Southwest School of Banking and is a graduate of the Harvard University Business School Corporate Governance Program.
Her two sons and three of her siblings have received degrees from TTU.