Larry K. Anders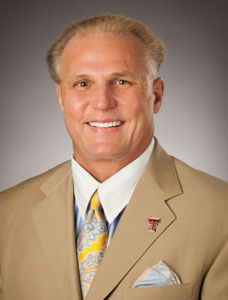 Mr. Larry K. Anders was appointed by Gov. Rick Perry to the Board of Regents of the Texas Tech University System on March 21, 2005. He was reappointed on February 1, 2011 with a

term expiring on January 31, 2017.
Currently, Mr. Anders is chairman of the Facilities Committee and serves on the Finance and Administration and Regents' Rules Committees. He served as the board's chairman from March 2009 to February 2011 and twice as vice chairman from June 2007 to March 2009 and February 2013 to April 2015.
Mr. Anders is the chairman and majority owner of Summit Alliance Companies, an independent investment advisory and financial services firm in Dallas.
Mr. Anders has more than 30 years of experience in the insurance industry, beginning his career in 1979 with Mass Mutual in Lubbock. That same year he began work with Transamerica, where in October 1991 he became general manager of Transamerica's branch office in Dallas. Under Anders' leadership, the Dallas branch won Transamerica's prestigious President's Cup Award three times and was twice named the top branch office nationwide. His firm today ranks as the number one general agency and Transamerica's top producing firm for the past fourteen consecutive years.
Mr. Anders earned a Certified Life Underwriter designation in 1989. He has been a Life and Qualifying Member of the Million Dollar Round Table since 1980 and a member of the American Society of CLU and ChFC, Association for Advanced Life Underwriting, National Association of Life Underwriters, Dallas Association of Life Underwriters and Dallas Estate Planning Council. In addition, Anders is a current member and qualifier of the MDRT's illustrious Top of the Table.
A native of Lubbock, Mr. Anders was a football standout at Coronado High School. He attended West Texas State University on a full scholarship before attending Texas Tech University. He resides in Plano with his wife Nesa. He and his wife have three adult children, two of which currently attend Texas Tech University, and the oldest of the three who graduated from Texas Tech University in August 2009.