Cody Campbell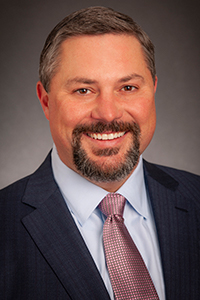 Mr. Cody Campbell was appointed by Gov. Greg Abbott to the Board of Regents of the Texas Tech University System on April 13, 2021. He currently serves as vice chairman of the Finance & Investments Committee and vice chairman of the Carr Foundation Board of Trustees. His term will expire Jan. 31, 2027.
Campbell is the co-chief executive officer and co-founder of Double Eagle Energy Holdings. Headquartered in Fort Worth, Double Eagle is an upstream E&P company, and has been one of the most active participants in the Permian Basin over the last decade, assembling hundreds of thousands of acres and completing billions of dollars in transactions.
He graduated with honors from Texas Tech University's (TTU) Rawls College of Business, earning a pair of bachelor's degrees in finance and economics and a master's degree in finance. A fourth-generation Red Raider, Campbell comes from a long line of Texas Tech graduates, including both of his parents, his grandmother and his great-grandfather, who was a member of TTU's first class in 1925-26.
Campbell was a four-year letterman on the offensive line for the TTU football team from 2001-04, earning multiple All-Big 12 and Academic All-Big 12 honors. He went on to play in the Hula Bowl and Gridiron Classic all-star games before spending two seasons (2005-06) with the Indianapolis Colts after his college career.
He was appointed by Gov. Abbott to the Texas Higher Education Coordinating Board in 2019 and is a member of the board of directors of the Texas Public Policy Foundation, the Board of Trustees of All Saints' Episcopal School of Fort Worth and president and board member of Double Eagle Charities, Inc. Campbell served on the Rawls College Advisory Council for three years (2011-14) and was named a Rawls College Distinguished Alumnus for 2019.
Campbell lives in Fort Worth with his wife, Tara, also a Texas Tech graduate, and their four children.