Tim Lancaster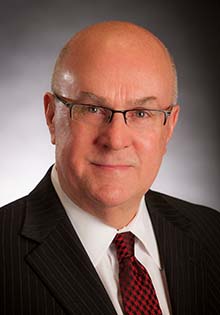 Lancaster's term on the board expired on Jan. 31, 2019.
Mr. Tim Lancaster of Abilene was appointed by Gov. Rick Perry to the Board of Regents of the Texas Tech University System on Feb. 14, 2013.
Lancaster was named vice chairman of the Board of Regents on Feb. 23, 2017. He assumed board chairman responsibilities on Oct. 4, 2018. He also served as chairman of the Regents' Rules Review Committee.
He has previously served the board as chairman of the Academic, Clinical and Student Affairs Committee and served as a member on the Finance and Administration Committee.
Lancaster is the President and CEO of Hendrick Health System in Abilene, Texas. Hendrick is a 500-bed hospital with 3,400 employees serving a 19-county area of West Texas. He has been in this position since August 2004, having previously served as CEO of Brownwood Regional Medical Center in Brownwood, Texas. Lancaster announced his retirement from Hendrick Health System, effective Dec. 31, 2018.
In September 2018, Lancaster was recognized as the 2018 Outstanding Citizen of the Year by the Abilene Chamber of Commerce. He was also awarded the 2017 Earl M. Collier Award for Distinguished Health Care Administration, following a tenure as chairman of the Texas Hospital Association, which includes 500 hospitals.
He has logged more than 30 years in the health care field, including five years as CEO of the Cogdell Memorial Hospital in Snyder.
He began his career in banking at Lubbock National Bank and transitioned as it became a part of RepublicBank. He later switched to the health care industry, serving at various hospitals across Texas.
Lancaster is active in several health care professional organizations and currently serves on the Regional Policy Board for the American Hospital Association.
He served as chairman of the Texas Association of Voluntary Hospitals, as well as on the Executive Committee of the Healthcare Coalition of Texas. Additionally, he is a former regent of the American College of Healthcare Executives (ACHE) and a recipient of the American College of Healthcare Executives and Senior Healthcare Achievement Awards through ACHE.
Lancaster has been active in various leadership roles in his community. He serves on the First Financial Bank board in Abilene and is a member of the Abilene Industrial Foundation and Abilene Improvement Corporation. He also has served as chairman of the Abilene Chamber of Commerce and on the board of the Abilene Cultural Affairs Council, Boy Scouts of America, Community Foundation, Grace Museum, United Way and as a deacon at First Baptist Church. While living in Brownwood, Lancaster served on the Howard Payne University board, Economic Development Committee and Chamber of Commerce board.
He received his Bachelor of Business Administration in finance from Texas Tech University in 1976 and a master's degree in healthcare administration from Texas Woman's University in Dallas. At Texas Tech, Lancaster was active in his fraternity, Sigma Phi Epsilon, serving in various leadership roles including social chairman and pledge trainer. He is a member of the Texas Tech Alumni Association and the TTU System Chancellor's Council.
Lancaster and his wife, Regina, have two grown sons who are also graduates of Texas Tech University, Chad (2004) and Chris (2007). Their two daughter-in-laws are also graduates of TTU, Lindsay (Utley) Lancaster (2005) and Meredith (Carter) Lancaster (2008). Hoping to continue the tradition, their two grandsons, Jack and Jet, are enrolled in the Texas Tech Legacy program.