J. Michael Lewis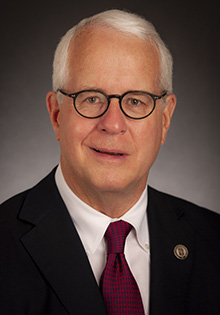 CHAIRMAN
Mr. J. Michael Lewis of Dallas was appointed by Gov. Greg Abbott to the Board of Regents of the Texas Tech University System on January 31, 2017. He was named chairman of the board on December 10, 2020, where he was nominated and affirmed by a unanimous vote by the board. His term on the Board of Regents will expire on January 31, 2023.
Lewis was previously named vice chairman of the Board of Regents on March 21, 2019, and currently serves as chairman of the Regents' Rules Review Committee. He also previously served the board as chairman of the Carr Foundation Board of Trustees and as a member of the Finance and Administration Committee.
Lewis has served his alma mater as chairman of the Jerry S. Rawls College of Business Administration Advisory Council, as a member of the TTU System Chancellor's Council and as a member of the Matador Society. He was a member of the Investment Advisory Committee and served as a board member for the Texas Tech Foundation, Inc. In addition, he was named a Distinguished Alumnus of the Rawls College of Business in 2014.
Community leadership has long been important to Lewis as he has served the State of Texas on the Governor's University Research Initiative Advisory Board. In 1989, he and his wife, Robin, co-founded Providence Christian School of Texas, a nonprofit non-denominational school and were also founding directors of the West Dallas Community School in 1995 where Lewis continues to serve on the Advisory Board today. He is an advisory director of the State Fair of Texas, a member of the Baylor Health Care System Foundation Advisory Board and a member of the Salesmanship Club of Dallas.
In 2000, Lewis started a series of private partnerships based in Dallas to acquire oil and gas mineral interests in Texas, Louisiana and Oklahoma. Prior to that, Lewis served as an executive officer at Columbus Realty Trust, a multi-family REIT and Dean Foods Corporation, the largest dairy processor in the U.S. After graduation he served in various executive positions at Southland Life Insurance Company and Southland Financial Corporation for a total of 19 years.
Lewis is a sixth-generation Texan who grew up in Olney and graduated from Texas Tech University in 1972 with a bachelor's degree in finance and a minor in chemistry. He then graduated from Southern Methodist University in 1975 with a master's degree in business administration.
Most of the achievements outlined above can be attributed to the loving support and advice of his wife of 45 years. They are proud parents of four adult children along with seven grandchildren.