Home /
Christina Martinez
Christina Martinez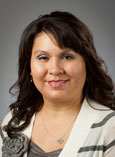 Executive Secretary to the Board
Christina Martinez serves as Executive Secretary to the Board of Regents of the Texas Tech University System. The Executive Secretary to the Board of Regents works closely with the regents, upper administration and staff from TTU System component institutions in the organization and execution of the Board of Regents' committee and board meetings.
This includes the compilation, editing and distribution of all memos, agendas, minutes and any materials associated with the Board and the Board of Regents meetings; the coordination of travel, hotel and catering required for each meeting; the official "open meetings" announcement with the Secretary of State for each meeting; and the reconciliation of travel expenses for board members. The Board of Regents generally meets five times a year with special-called meetings held as deemed necessary.
Ms. Martinez began her career at the TTU System in 1996 in the Office of News and Publications at Texas Tech University Health Sciences Center. Later that same year, she joined the Office of the Chancellor working as Executive Administrative Assistant to Ben Lock. During her time in the Chancellor's Office, Ms. Martinez also served as the TTU System's SECC coordinator. In 2004, Ms. Martinez assumed the vacated position of Executive Secretary to the Board of Regents. She currently serves jointly in that position as well as continuing in her position as Mr. Lock's assistant. Prior to her employment with the TTU System, Ms. Martinez was employed with Texas Instruments, Inc.
Ms. Martinez earned her associate's degree in business administration from South Plains College in 1998 and a bachelor's degree in management information systems from Texas Tech University in 2001.