Nancy Neal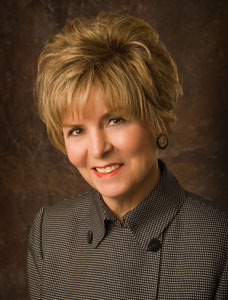 Mrs. Nancy Neal of Lubbock was appointed by Gov. Rick Perry to the Board of Regents of the Texas Tech University System on February 6, 2009. Mrs. Neal currently chairs the Academic, Clinical and Student Affairs Committee and Strategic Planning Committee. She also is a member of the Audit Committee and Regents' Rules Review Committee. Her term expires on January 31, 2015.
Mrs. Neal is a registered nurse and former school health nurse at Wheatley Elementary in the Lubbock ISD. A native of Tulare, CA, she earned her diploma in Nursing from Emanuel Hospital School of Nursing in Portland, OR in 1966. In 1985, she earned a Bachelor of Science in Nursing from the Texas Tech University Health Sciences Center (TTUHSC).
She previously served as member and past president of the Board of Regents of the Texas State University System, having been appointed in 1997 for a term that expired in 2003. Mrs. Neal is a past member of the Texas Higher Education Coordinating Board, past president of the Lubbock Independent School District Board of Trustees and the Texas Medical Association Alliance, alliance representative on the American Medical Political Action Committee, and member of the Texas Nurses Association, District 18, and the American Nurses Association. She is also a founding member of the Iota Chapter of Sigma Theta Tau National Nursing Sorority.
Mrs. Neal is involved with ARCS (Achievement Rewards for College Scientists), Lubbock Symphony Guild, United Way of Lubbock, a member of the community advisory committee for the Institute of Environmental and Human Health at Texas Tech University (TIEHH), on the national board of Buckner International and is active with Lubbock Area Republican Women. She is a founding member of the Science Spectrum, Inc. of Lubbock and has served on the board since its inception. She serves on the board of the Young Women's Leadership Academy in Lubbock. She also serves on the National Board for the Laura W. Bush Institute for Women's Health. She served on the board of Methodist Hospital and Covenant Health Systems Board of Directors until 2004.
She is a member and past chair of the Chancellor's Council for the Texas Tech University System, past chair of the Texas Tech Foundation, and serves on the Anita Thigpen Perry School of Nursing Advisory Committee. In 1998, she received the Distinguished Alumnus Award from the TTUHSC School of Nursing, and in 2007 she received the Silver Star award and was named an Outstanding Alumnus for the 25th Anniversary Celebration of the School of Nursing. Mrs. Neal was in the 1995 class of Leadership TEXAS.
Mrs. Neal is married to Thomas F. Neal, M.D., a Lubbock-based otolaryngologist. They have three children: Cameron Neal of Bristol, CT; Ryan and Jennifer (Wright) Neal of Anderson, SC; Meredith and Paul Poe of Greenville, SC; and five grandchildren. The Neals are active members of First Baptist Church in Lubbock.