John D. Steinmetz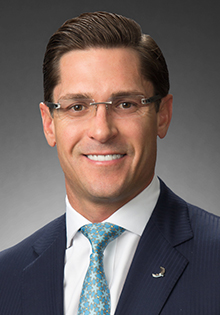 Mr. John D. Steinmetz was reappointed by Gov. Greg Abbott to the Board of Regents of the Texas Tech University System on Jan. 23, 2017. Steinmetz was originally appointed by former Gov. Rick Perry on Feb. 1, 2011. He currently is the chairman of the Audit Committee and a member of the Regents' Rules Review Committee. His current term expires Jan. 31, 2023.
Steinmetz is a gubernatorial appointee to the Texas Tech University System Board of Regents. He previously served the board as chairman of the Academic, Clinical and Student Affairs Committee, Audit Committee, Finance and Administration Committee and the Board of Trustees of the Carr Scholarship Foundation. He has also served as a member of the Facilities Committee, Academic, Clinical and Student Affairs Committee and Regents' Rules Review Committee.
Steinmetz is CEO of Vista Bank where he oversees all banking activities, directs the planning and achieving of strategic goals, and is responsible for employee, client and shareholder relations. He also serves as vice chairman of Vista Bank's holding company, Vista Bancshares.
Steinmetz has been involved in numerous local, state, national and international organizations, including Boys & Girls Clubs of America, Young Life, Texas Lyceum and the Young Presidents' Organization.
Additionally, Steinmetz is a 2018 honoree of the Dallas Business Journal and Fort Worth Business Press 40 Under 40 programs and serves as a Dallas Citizens Council trustee.
Steinmetz received a bachelor's degree in finance from Texas Tech University's Jerry S. Rawls College of Business Administration in 2002.
While attending Texas Tech, Steinmetz served as president of the Texas Tech University Student Government Association where he founded Texas Tech's RaiderGate, was co-founder of the Student Red Raider Club and was a member of the Phi Delta Theta fraternity.
Steinmetz and his wife, Jaemie, a graduate of Texas Tech University's College of Human Sciences, have one son, John David, and one daughter, Stiles Claire. They reside in Dallas.