Ron Hammonds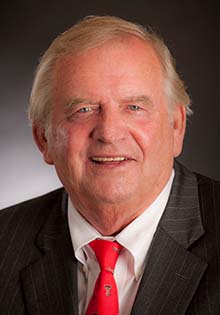 Hammonds' term on the board expired on Jan. 31, 2021.
Mr. Ron Hammonds was appointed by Gov. Greg Abbott to the Board of Regents of the Texas Tech University System on Jan. 22, 2015. He served as chairman of the Audit Committee and as a member of the Facilities Committee.
He also previously served the board as vice chairman of the Carr Foundation Board of Trustees and was a member of the Audit Committee.
He has served on the boards of the local, state and national associations of homebuilders, the Hearthstone Homeowners Association, the Hearthstone Country Club, and the Brookhollow National Bank.
Hammonds is the owner and president of Grason Communities, Ltd., a real estate investment firm.
In 1985, Hammonds founded Hammonds Homes Ltd. The company grew to be ranked in the top 10 in the state of Texas, building more than 1,200 homes per year spread across the Houston, Dallas and Austin markets before being acquired in 2002 by a publicly held homebuilder.
Hammonds joined homebuilder Nash Phillips Copus (NPC) in Austin, Texas to be their executive vice president and Houston Division President as the company grew to become the largest privately held homebuilder in the U.S.
Hammonds was employed as an accountant and eventually executive vice president of Southern Living and Leisure, a land development company located in Wimberley and Austin, Texas.
He was briefly called to serve as a 2nd Lt. in the U.S. Army Finance Corp for a short tour at the U.S. Army Finance Center in Indianapolis, Indiana.
Hammonds began his career employed as a CPA by the Houston office of Haskins and Sells, which was one of the "big eight" national accounting firms. They were eventually morphed into what is known today as Deloitte and Touche.
Hammonds is a native of West Texas, growing up in Cotton Center. He graduated from Texas Tech University with a Bachelor of Business Administration in accounting in 1968. He also was a member of the Saddle Tramps organization.
Hammonds and his wife, Nancy, currently reside in Houston. He is a member of St. Luke's Methodist Church, the Texas Tech Alumni Association and the Texas Tech University System's Chancellor's Council.
As a father of four, Hammonds has coached and served on the boards of multiple youth football, soccer, cheerleading, basketball, project prom and baseball organizations and has in the past been active in the affairs of the Cy-Fair School District. He supports the Star of Hope Mission, the Baytown Homeless Shelter and oversees the Ron Hammonds Scholarship at Texas Tech University which a group of his friends endowed in his honor.