Home /
Victoria Rose Messer
Victoria Rose Messer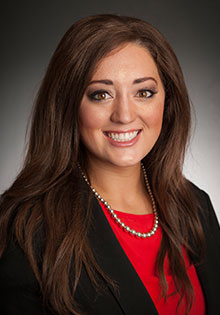 Messer's term on the board expired on May 31, 2016.
STUDENT REGENT
Ms. Victoria Rose Messer of Canyon was appointed by Governor Greg Abbott to serve as Student Regent for a one-year term expiring May 31, 2016. As Student Regent, she serves on the Academic, Clinical, and Student Affairs Committee.
Ms. Messer is a native of the Panhandle, growing up in Hereford, Texas, and graduated from Canyon High School in 2008. She is the daughter of Roy Dale and MaryBeth Messer of Canyon.
She received her Bachelors of Arts in Political Science from Texas Tech University in December 2012. While at Texas Tech University, Ms. Messer was active in organizations such as President's Select, Mortar Board, Chancellor's Ambassador, and Alpha Delta Pi Sorority. In 2012, Ms. Messer received the Outstanding Senior Award in President's Select and was a member of the Texas Tech Homecoming Court in 2011. Most notably, Ms. Messer was the first student to participate in the Government & Public Service Internship Program as both a congressional and legislative intern. In 2011, Ms. Messer interned for Senator Robert Duncan during the 82nd Texas Legislature and in Washington, D.C. for Senator Kay Bailey Hutchison in the spring of 2012.
In the spring of 2013, Ms. Messer returned to the Texas Legislature as a legislative aide for State Representative Drew Darby of San Angelo. Ms. Messer was the Representative's policy advisor for the House Committee on Higher Education.
Ms. Messer is currently pursuing a Juris Doctorate Degree from Texas Tech University School of Law. In the spring of 2015, Ms. Messer returned to Representative Darby's office for her third legislative session as a regional extern with Texas Tech School of Law's Regional Externship Program. While there she aided Representative Darby as a policy advisor for the House Energy Resources Committee. While in Austin, Ms. Messer received the Top Extern Award, and in the Capitol Crowd's peer-nominated poll, was voted House Intern Most Likely to Be Running the Legislature in 10 Years.
Ms. Messer enjoys playing golf, cooking, being outdoors, and spending time with her family, friends, and miniature schnauzer Fritz.