Home /
TTU System Vice Chancellor, CFO Announces Retirement
TTU System Vice Chancellor, CFO Announces Retirement
Jim Brunjes has served in leadership positions throughout the Texas Tech University System for 25 years.
March 22, 2016 | Written by Dailey Fuller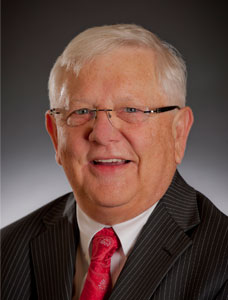 Jim Brunjes
---
After two and a half decades of dedicated service, Vice Chancellor and Chief Financial Officer Jim Brunjes announced today (March 22) his retirement from the Texas Tech University System. Brunjes will retire in early 2017 to help ensure a successful transition for one of the system's top executive positions.
"It has been an honor to serve the Texas Tech University System and Texas Tech University for the last 25 years," Brunjes said. "During my time here, I have been fortunate to work with countless great people who care deeply about our universities and who have made our immense growth and success possible. While this place means so much to me, I am looking forward to what the new chapter will bring and know the Texas Tech University System is in good hands and will always be part of my life."
In his role, Brunjes oversees an annual operating budget of $1.9 billion and is responsible for the overall financial strength and stability of the Texas Tech University System. He also manages multiple offices and services at the Texas Tech University System, including Treasury & Cash Management, Risk Management, Information Technology, the Office of Equal Employment Opportunity and Office of Investments.
Among his many areas of responsibility, Brunjes serves as treasurer of the Texas Tech Foundation Board of Directors and works closely with the chief financial officers at each component institution as well as with the Finance and Administration Committee and Investment Advisory Committee of the Board of Regents.
"For decades, Jim has been a champion for the Texas Tech University System and our universities," Chancellor Robert L. Duncan said. "His steadfast leadership has solidified our financial standings and health, yielded the largest endowment in our history and helped place us among the nation's elite institutions of higher education, all while remaining committed to the best interests of our students and the citizens of Texas. Jim will be greatly missed, and we will always be grateful for his longstanding service and dedication."
Under Brunjes's leadership, the endowment of the Texas Tech University System has grown from $257.7 million in 1999 and today, is in excess of $1.1 billion.
In accordance with this growth, the Texas Tech University System's endowment ranking in the National Association of College and University Business Officers (NACUBO) improved during this time, jumping from 175th largest in the nation in 1999 to 76th largest in 2015.
Additionally, three of the world's most influential credit rating organizations – Moody's, Standard & Poor's and Fitch Ratings – have given the Texas Tech University System superior ratings during Brunjes's tenure. The ratings have placed the Texas Tech University System among the nation's top institutions for financial stability and acumen.
"Mr. Brunjes has done an outstanding job in strengthening the financial portfolio and position of the Texas Tech University System," said Mickey Long, chairman of the Board of Regents. "But there's an even bigger impact he has made in enhancing our universities that is the true testament to Mr. Brunjes's leadership. On behalf of the Board of Regents, we appreciate his incredible service and the legacy he leaves that will be felt for years to come."
Outside of national recognition, Brunjes notes the advancement of student services and implementation of sound financial practices as important milestones.
Jim Brunjes, left, stands with Mentor Tech Director Cory Powell and the Honorable Glenda Hatchett.
---
"We have come a long way in increasing services for students," Brunjes said. "When I started here, students stood in line to pay tuition, receive financial aid and register for classes. As technology evolves, so do the needs of our students. Ensuring our students are taken care of has always been a top priority and is one I hold in high regard."
In 2008, the Texas Tech University System was one of the first systems of higher education in the state to adopt and centralize online platforms to increase access and automation supporting student services, such as registration, financial aid and student billing. Also, the careful issuance of bonds has played a major role in supporting the construction and renovation of campus facilities. Of note for Brunjes are the United Supermarkets Arena, which opened in 1999, and the recent expansions to the west and east sides of Jones AT&T Stadium.
Another student program of particular importance for Brunjes is the Lauro Cavazos & Ophelia Powell-Malone Mentoring Program, or Mentor Tech. In 2002, Brunjes helped provide institutional support to establish the program, which works to improve the educational experience of students from underrepresented populations through programs, services, advocacy and campus and community involvement. The program provides students with information, encouragement and direction by pairing students with faculty and staff members to help them reach their academic, personal and professional goals.
Since the program's beginning in 2002, Mentor Tech has assisted more than 3,200 students, and within the last 10 years, more than 1,000 participants have graduated from Texas Tech University and the Texas Tech University Health Sciences Center. During the 2015-2016 academic year, the program's participation grew to 1,041 participants.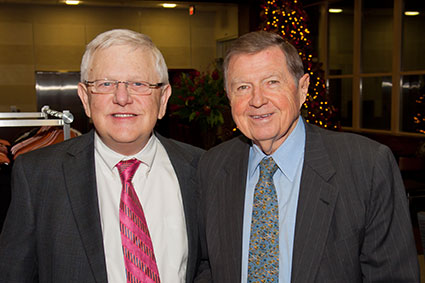 Jim Brunjes with Dr. Robert Lawless, former President of Texas Tech University (1989-96).
---
"When I hired Jim, I would have never imagined him staying for 25 years and having the impact he has had," said Robert Lawless, former Texas Tech University president (1989-96). "Jim has been a major asset to the Texas Tech University System, contributing greatly to its financial success and growth. Beyond his financial expertise, Jim is an even better person and friend, and I congratulate him on a successful career."
Brunjes began at Texas Tech University in 1991 as vice president for administration, responsible for administrative oversight, strategic planning, budget coordination and the Office of the Board of Regents. In 1999, he was named to his current post as vice chancellor and chief financial officer. He is the second person to hold the position in the history of the Texas Tech University System, which was established by the Board of Regents in 1996 and formally created by the Texas Legislature in 1999.
Before joining the Texas Tech University System, Brunjes was a vice president at Southwest Airlines and served for 14 years in higher education leadership roles at multiple Texas public universities. A national search, which will be assisted by a search committee, to fill this position will begin in the coming months.
Additional Thoughts on Vice Chancellor & CFO Jim Brunjes
"Jim has been a driving force at the Texas Tech University System since my time as student body president. I remember his strong commitment to students back then, which still holds true today. Jim has never lost sight of our mission of preparing future leaders, and I appreciate all he has done in providing the best for our students." – Regent John Steinmetz
"Jim and I first met when he started his employment at Texas Tech University in 1991, and we have worked closely together for the last 25 years. During that time, we've developed a personal bond in addition to our professional relationship. He is a man of high integrity and strong moral character. The Texas Tech University System is in a better place because of Jim Brunjes. I can only wish Jim the best in retirement and trust he will find the rewards he so richly deserves." – Elmo Cavin, executive vice president for finance and administration at Texas Tech University Health Sciences Center
"I've had the pleasure of working with Mr. Brunjes for the last 10 years. Not only has he been a trusted colleague of mine, but more importantly, he has been a mentor to me personally, as he has been to many others. Mr. Brunjes's wisdom and guidance has helped shape Texas Tech University into what it is today, and I thank him for his leadership and friendship." – Noel Sloan, chief financial officer and vice president for administration and finance at Texas Tech University
"Without the foresight and support of Mr. Brunjes during the formative years of Mentor Tech, the program would not exist. He has certainly made an indelible mark on the Texas Tech University System and our beloved institutions. I am exceptionally grateful for the guidance, words of encouragement and continued support that he's provided me both professionally and personally over the years." – Cory Powell, Mentor Tech Director at Texas Tech University
About the Texas Tech University System
The Texas Tech University System is one of the top public university systems in Texas and the nation, consisting of four component institutions – Texas Tech University, Texas Tech University Health Sciences Center, Angelo State University and Texas Tech University Health Sciences Center El Paso – and operating at more than a dozen academic sites and centers. Headquartered in Lubbock, Texas, the TTU System has an annual operating budget of nearly $2 billion and approximately 19,000 employees focused on advancing higher education, health care, research and outreach.
In 2015, the TTU System's endowment exceeded $1.1 billion, total research expenditures were more than $215 million and total enrollment was approximately 50,000 students. Whether it's contributing billions of dollars annually in economic impact or being the only system in Texas to house an academic institution, law school and health-related institution at the same location, the TTU System continues to prove that anything is possible.