Home /
Search Committee Announced for Next Midwestern State University President
Search Committee Announced for Next Midwestern State University President
A 12-member committee will help identify candidates to be the next president of Midwestern State University.

Sept. 16, 2021 | Contact: Scott Lacefield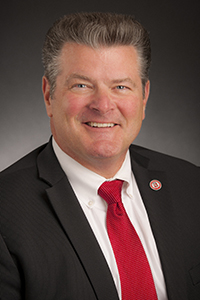 Tedd L. Mitchell, M.D.

---
The Texas Tech University System (TTU System) Board of Regents and Chancellor Tedd L. Mitchell, M.D., named a search committee today (Sept. 16) to assist in finding the next president of Midwestern State University (MSU Texas).
"Midwestern State University has a celebrated history and tradition of excellence in higher education spanning nearly 100 years," Mitchell said. "As a leading liberal arts university, MSU Texas is a remarkable institution with a tremendous future that we are proud to have as a member of the Texas Tech University System. We believe this opportunity will attract highly qualified candidates as we search for the university's next president and, through this collaborative effort, I am confident the right leader will be selected to build on the university's distinguished success while fulfilling its mission."
The 12-member committee is led by Mark Griffin, vice chairman and current member of the TTU System Board of Regents. Griffin, who is serving in his second term on the Board of Regents, previously served as chairman of the search committee responsible for identifying and recommending Texas Tech University Health Sciences Center's ninth president in 2020, Lori Rice-Spearman, Ph.D.
"It's an honor to serve the Texas Tech University System and Midwestern State University as chairman of the search committee who will have the privilege of identifying the next accomplished leader of this great institution," Griffin said. "Our committee's unique perspective will be invaluable in ensuring the MSU Texas community's voice is heard throughout the search process.
Regent Mark Griffin

---
"I am thankful for the time and expertise our committee members will be dedicating to this process," Griffin continued. "The Board of Regents understands the importance of this decision and is grateful to the MSU Texas stakeholders and campus community for engaging in the process from which we will ultimately select the 12th president of this fine institution."
Former president of MSU Texas Suzanne Shipley announced her retirement on June 2, following a six-year tenure (2015-2021) leading the institution to significant transformational accomplishments. James Johnston, MSU Texas' provost and vice president of academic affairs since 2017, was announced as interim president on Aug. 5.
A national search will be conducted for the next MSU Texas president. The committee will help identify potential candidates, assist with initial screenings, and ensure their respective constituency groups are kept updated on the progress of the search. Candidate recommendations will be forwarded to the chancellor and the board to make the final appointment of president.
The search committee, which comprises representation from multiple MSU Texas and TTU System constituencies, including regents, former regents, faculty, students, deans, staff, donors, alumni and community members, will begin its work immediately. Members of the search committee are:
About the Texas Tech University System
Established in 1996, the Texas Tech University System is one of the top public university systems in the nation, consisting of five universities – Texas Tech University, Texas Tech University Health Sciences Center, Angelo State University, Texas Tech University Health Sciences Center El Paso and Midwestern State University.
Headquartered in Lubbock, Texas, the TTU System is a $2.5 billion enterprise focused on advancing higher education, health care, research and outreach with approximately 21,000 employees, more than 63,000 students, nearly 370,000 alumni and an endowment valued at more than $1.3 billion. In its short history, the TTU System has grown tremendously and is nationally acclaimed, operating at 24 academic locations in 21 cities (19 in Texas, 2 international).
During the 87th Texas Legislature under the leadership of Chancellor Tedd L. Mitchell, M.D., the TTU System welcomed MSU Texas as its fifth member institution during the 25-year anniversary of the system. MSU Texas is the only Texas university to become a member of the Council of Public Liberal Arts Colleges. Students at MSU Texas choose from more than 60 majors and several pre-professional programs, are active in more than 100 student organizations and bring a spirit of competition to 13 NCAA Division II athletics programs.
In addition, the TTU System is one of only nine in the nation to offer programs for undergraduate, medical, law, nursing, pharmacy, dental and veterinary education, among other academic areas.