Sean Lewis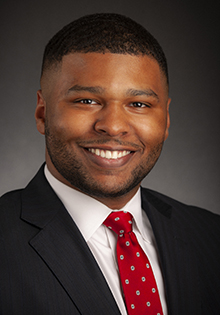 Lewis' term on the board expired on May 31, 2020.
STUDENT REGENT
Mr. Sean Lewis of Detroit, Michigan was appointed by Gov. Greg Abbott to serve the Texas Tech University System Board of Regents as Student Regent for a one-year term, expiring May 31, 2020. He is the 14th student to serve on the board and is the fifth to represent Texas Tech University (TTU).
As a student regent, he serves on the Academic, Clinical and Student Affairs Committee.
Lewis is currently pursuing a Juris Doctor degree from TTU School of Law. In May 2019 he received a Bachelor of Arts degree in history – and a minor in political science – from TTU.
Lewis received dean's list status each year throughout his undergraduate education. While serving as TTU Student Government Association Student Body President, Lewis advocated for students in both Washington, D.C. and Austin, meeting with elected officials, agencies and industry professionals regarding college affordability, diversity, health care and mental health.
Lewis served as a political affairs intern at The White House in the Executive Office of the President in Washington, D.C., during the summer of 2017. He assisted The White House regional political director with outreach to influential stakeholders.
He also served various positions in local, state, and the federal government where he promoted student interests.