Todd Hardin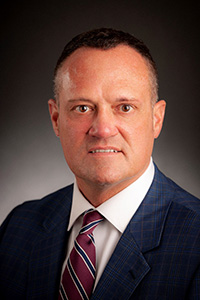 Associate Vice Chancellor
Todd Hardin serves as Associate Vice Chancellor for Facilities Planning & Construction within the Texas Tech University System, encompassing five component institutions and their multiple campuses.
His experience includes 14 years in the private sector where he excelled as a project manager and was promoted to an associate, working on higher education projects for a large Texas-based architectural firm. Prior to that time, Todd served 18 years between Texas Tech University Health Sciences Center and the TTU System as a senior project manager working on academic and academic health care facilities projects.
Todd brings a unique skill-set with his understanding of higher education institutional dynamics and the challenges/opportunities facing those institutions. He places particular importance on developing trusted advisor relationships and believes successful outcomes are the result of exceptional communication, coordination and commitment. Todd has successfully managed over $850 million of higher education facilities architectural projects. His role focuses on the design and construction of all facilities projects within the TTU System as well as their alignment to the campus master plan. He is also responsible for the institution's Building Design Standards and master planning.
Todd has a professional degree in architecture from Texas Tech University, is an active member of the American Institute of Architect and Texas Society of Architects and currently serves on the board of directors and finance committee for Ronald McDonald House Charities of the Southwest.
In 2017, Todd was the recipient of the Richard Ligon Service Award for his local community volunteer charitable and pro-bono community service efforts.