Research/Academic Showcase
Texas Tech University
Texas Tech University Health Sciences Center
Alumni Highlights
Development
Athletics
Texas Tech University Press
Other News
Helpful Links
"We are going to create a formidable, vertically-oriented genetics research team with a common goal of discovery."
Dr. Thea Wilkins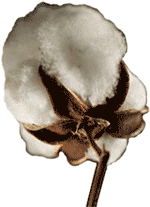 Texas Tech Hires Prominent Cotton Geneticist
Building a Better Cotton Boll
Research/Academic Showcase
With nearly six million acres devoted to the crop, Texas already boasts the world's largest cotton-producing area. State leaders and Texas Tech University officials are betting it will soon be the most genetically advanced.
Enticed by the promise of millions in combined state and university research dollars and a new prestigious endowment, Dr. Thea Wilkins has quit the West Coast and planted new roots as Texas Tech's head cotton geneticist.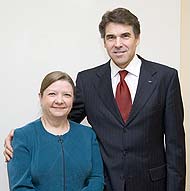 Dr. Thea Wilkins with Gov. Rick Perry. Wilkins will anchor the International Center of Excellence in Agricultural Genomics and Biotechnology in Texas Tech's Department of Plant and Soil Science.
Wilkins arrives at Texas Tech from the University of California-Davis where she proved herself a premier researcher in the field of cotton genomics--the study of cotton genes and their functions. She will be a professor in the College of Agricultural Sciences and Natural Resources Department of Plant and Soil Science and the director of genomics for the new International Center of Excellence in Agricultural Genomics and Biotechnology,
Bayer Cropscience, a leading producer of agricultural chemicals and genetically modified seeds, endowed the $500,000 research professorship in the college last May to attract a scientist with Wilkins' background. Tech committed $1 million over the next two years to bankroll personnel and lab equipment for Wilkins. Gov. Rick Perry sweetened the pot considerably by investing the first $1.9 million of his newly-established Emerging Technology Fund to develop Texas Tech's new biotechnology center.
"We are going to create a formidable, vertically-oriented genetics research team with a common goal of discovery," Wilkins told a packed room when Gov. Perry visited Lubbock to introduce her. "This strategic alliance is a venture of great promise."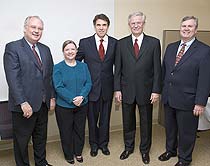 Gary Lawrence, CEO of Lubbock Economic Development Alliance, Inc. , Dr. Thea Wilkins, Gov. Rick Perry, Texas Tech University President Dr. Jon Whitmore and Dr. Mike Gilbert, Global Cotton Manager, Bayer CropScience
Perry said repeatedly that he'd envisioned a researcher like Wilkins when he proposed the technology fund to spur new technology and attract top scientists to the state. A portion of the fund is earmarked for recruitment.
"This is a big deal," he said from a podium in Texas Tech's new cutting edge Experimental Sciences building, where Wilkins now offices. "The innovations that occur as a result of Dr. Wilkins' work will lead to the creation of hundreds or even thousands of new Texas jobs."
In California, Wilkins and her team used a $3.8 million federal grant to identify as many as 60,000 cotton genes, particularly those that determine the length, strength and texture of cotton fiber. This research would allow scientists to genetically improve cotton fiber quality. Wilkins led UC Davis' Cotton Functional Genomics Laboratory and has become a global leader in the international cotton community.
Gov. Rick Perry has announced that Texas Tech will receive nearly $2 million from the Emerging Technology Fund, approved by the Legislature in 2005 to foster economic development and promote partnerships among researchers and the business community.
Unlike many other major crops, cotton has not had a publicly-available database for DNA markers. Development of DNA-based tools to identify favorable traits and select plants accordingly has been limited by a lack of markers and maps.
Texas Tech leaders are lauding Wilkins' hiring.
"Dr. Wilkins brings the needed expertise to complement Texas Tech's cotton genomics and biotechnology research team," says Marvin Cepica, dean of the College of Agricultural Sciences and Natural Resources. "Her presence, in addition to the existing faculty, will help us be recognized as a world leader in cotton genetics."