Research/Academic Showcase
Texas Tech University
Texas Tech University Health Sciences Center
Alumni Highlights
Development
Athletics
Texas Tech University Press
Other News
Helpful Links
Ribbon Cutting Marks Medical School Milestone
Research/Academic Showcase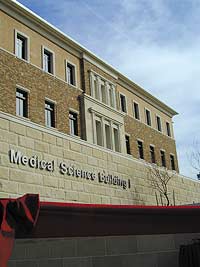 Medical Science Building I, the first of three buildings comprising the new four-year medical school at Texas Tech University Health Sciences Center at El Paso, has formally opened.
Supporters gathered Jan. 31 for a ribbon cutting ceremony and for a tour of the new facility.
"It was heartwarming to see how many supporters we have in our community and how involved our El Paso family has become with their medical school," says Jose Manuel de la Rosa, M.D., regional dean in El Paso.
Supporters of the medical school believe it will be the catalyst for building first-rate medical care in the El Paso region, training more physicians and bringing more equity to the healthcare status of El Pasoans. The first four-year medical school on the U.S./Mexico border is expected to improve the local economy by $1.31 billion by the year 2013.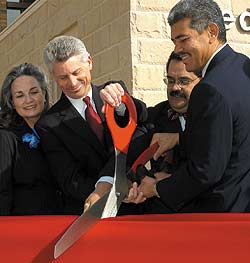 Chairman of the Board of Regents Rick Francis and his wife, Ginger (left), Regional Dean Jose Manuel de la Rosa, M.D., and President M. Roy Wilson, M.D., cut the symbolic ribbon.
The environment created within the walls of Medical Science Building I will help researchers collaborate on border health issues such as diabetes, hypertension, obesity, infectious diseases and other diseases that affect the area. The 93,000 square-foot research facility will also act as a repository for data on Hispanic health as well as a genomic facility to link hereditary diseases in families.
Donors of the Infinity Campaign – Texas Tech University Health Sciences Center's four-year medical school fundraising campaign – were invited to a reception the night before the big day. Fifty donors toured the building before it was officially opened for public viewing.