Research/Academic Showcase
Texas Tech University
Texas Tech University Health Sciences Center
Alumni Highlights
Development
Athletics
Texas Tech University Press
Other News
Helpful Links
Explore the Midwest in "America's 100th Meridian"
TTU Press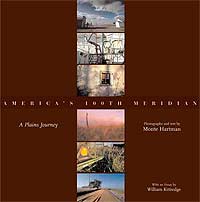 "America's 100th Meridian" Explores the Midwest
Anyone who has lived in the rural Midwest becomes accustomed to one particular scenario playing itself out over and over – a friend who lives in a major city asks, "How can you stand to live out in the country? How can you stand to live somewhere so desolate and drab?"
Photographer and author Monte Hartman got tired of those questions, too. So he created "America's 100th Meridian: A Plains Journey." This lush coffee table book, one of the newest offerings from Texas Tech University Press, presents the beauty, the splendor and, yes, sometimes the desolation of the Midwest, from Texas to North Dakota.
Resulting from a series of six journeys along the 100th Meridian-- a 2,000 mile line that divides East from West, Hartman's perceptive photographs provide the intimate observations of a person who chose to explore the meanings inherent in the so-called "empty middle" between our coasts. These images inspired William Kittredge to travel the Meridian himself. His essay, a sensitive musing on what once was and what now remains, offers a poignant counterpoint to Hartman's visual tapestry.
Hartman's photos range from a spotlessly maintained train depot in Cozad, Neb., to a deserted church near Edmond, Kan., to a freshly plowed field north of Paducah. The book as a whole is a remarkable reminder that the rural Midwest, for all the pooh-poohing from our more urban brethren, remains a scenic wonderland. Some of his pictures spotlight bustling small-town industry and picturesque sunsets; others feature decaying farmhouses and shuttered gas stations – not exactly Chamber of Commerce material, but all undeniably beautiful.
For more information about "America's 100th Meridian: A Plains Journey," Texas Tech University Press has prepared a special page focusing on the book. (http://www.ttup.ttu.edu/BookPages/0896725618.html)