Research/Academic Showcase
Texas Tech University
Texas Tech University Health Sciences Center
Alumni Highlights
Development
Athletics
Texas Tech University Press
Other News
Helpful Links
World Class Rural Health Institute Established
Development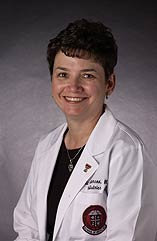 Patti Patterson, M.D.
Texas Tech University Health Sciences Center has established the F. Marie Hall Institute for Rural Health, a world class initiative to study health care issues and challenges in rural areas.
The new institute will build upon the current rural health projects and resources of the Health Sciences Center, adding new components such as student service learning, community-based research and a visiting scholars program.
While the Health Sciences Center has long been recognized as a leader in rural health issues, the creation of the Institute for Rural Health will elevate the institution's profile on a national and international level.
"Texas Tech is perfectly situated to study these issues and develop real-world, workable solutions," says Patti Patterson, M.D., vice president of Rural and Community Health and the first director of the institute. "This new institute will allow us to do so."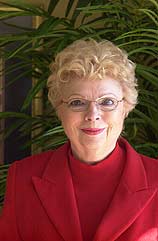 F. Marie Hall
Funding for new programs in the institute is made possible by a gift from F. Marie Hall of Big Spring. A longstanding supporter of the Health Sciences Center, Ms. Hall has given gifts for a recreational center for students, the F. Marie Hall Synergistic Center, and a faculty position dedicated to rural health.
M. Roy Wilson, M.D., M.S., president of the Health Sciences Center, says while the institution has tremendous resources, the help and support of visionaries such as Marie Hall will give TTUHSC a boost to the next level.
"Ms. Hall has a true insider view about rural health issues in West Texas. Her father was a rural West Texas physician," Wilson says. "We are pleased that her vision and support have lead to the creation of this new institute."
Ms. Hall says she is pleased that the institute will provide vision and compassion to inspire future healers for rural areas.
"It gives me great joy to have the opportunity to help establish this institute," Ms. Hall says. "Under the leadership of Dr. David Smith, former Texas Tech chancellor and former president of the Health Sciences Center, along with Dr. Patti Patterson, Texas Tech has made rural health issues a priority. I am very grateful that I can ensure the priority remains strong."