Research/Academic Showcase
Texas Tech University
Texas Tech University Health Sciences Center
Alumni Highlights
Development
Athletics
Texas Tech University Press
Other News
Helpful Links
Haragan Returns to Serve as Interim Chancellor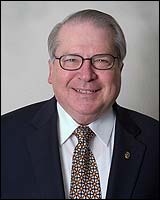 Dr. Donald R. Haragan
He's back. Dr. Donald R. Haragan will stand at the helm of The Texas Tech University System, serving as interim chancellor. Haragan was appointed Feb. 24 by the Board of Regents.
Haragan, who served as president of Texas Tech University from 1996 until 2000, began his duties March 1. He will serve for an indefinite period of time as regents work to select a replacement for Chancellor David R. Smith, who resigned in January.
"Now that the system has been in place for 10 years, we have an opportunity to assess where we have been and, if indicated, make some midcourse corrections for the future," Haragan says. "Working with the Board of Regents, my objective will be to recommend strategies designed to maximize the efficiency and effectiveness of the system administration and its interface with the two member institutions."
Haragan has been with Texas Tech for 36 years and served the university as executive vice president and provost, vice president for academic affairs and research, associate dean and interim dean of the College of Arts and Sciences, chair of the Department of Geosciences and as a professor.
He came to Texas Tech in 1969 as an assistant professor in geosciences and has served in a variety of administrative positions on both a full-time and interim basis.
"Don jokes that he is the epitome of interimity. He's been an interim department chair, an interim dean, an interim vice president and an interim president – twice," says President Dr. Jon Whitmore. "I think what that indicates is that Texas Tech knows that when it needs help, Don Haragan is the man we can turn too to make sure the university continues to grow and prosper."
Board Chairman L. Frederick 'Rick' Francis says Haragan's appointment assures that the Texas Tech University System and its two universities will continue to move forward.
"Don Haragan's unique institutional experience makes him an ideal person to maintain our forward progress," says Francis. "I believe Don will keep us on track as we continue to expand and enhance our high quality programs."