Research/Academic Showcase
Texas Tech University
Texas Tech University Health Sciences Center
Alumni Highlights
Development
Athletics
Texas Tech University Press
Other News
Helpful Links
First Student Regent Appointed by Gov. Perry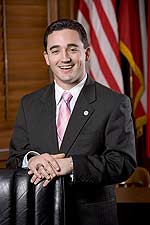 Chad Greenfield was recently appointed by Texas Gov. Rick Perry to serve as the Texas Tech University System's first Student Regent.
Chad Greenfield looks just like a poster boy for Texas Tech. A high-achieving student, he has an uncanny and unapologetic ability for squeezing in duties as a Saddle Tramp and a healthy load of intramural sports to his already hectic schedule.
Greenfield says his ambition stems from a love of people and a passion for serving Texas Tech.
"I'm comfortable in just about any social environment," he says. "I can be very professional when I need to be, but I can also be very fun and light-hearted."
Texas Gov. Rick Perry seemed to like these qualities. He appointed Greenfield to the Texas Tech Board of Regents as the System's first student regent. Greenfield also serves as a staff assistant for Congressman Randy Neugebauer.
"It's an honor to be selected to serve the student body at Texas Tech," he says. "I'm really looking forward to representing our students to the Board. I think the university has a lot of momentum now, and I'd like to play a part in maintaining that."
He participated in his first Board of Regents meeting in February. He hit the ground running with a packed agenda that included issues like flat-rate tuition and the appointment of Interim Chancellor Donald Haragan.
Greenfield, a senior exercise science major from Monahans, is also looking forward to starting his graduate work in the Rawls College of Business, where he hopes to earn an MBA.
"I know at this point that I want a career in public service," he says. "Public service is interesting to me, and I enjoy talking to people to learn more about them. Texas Tech has some of the best people in the world."
His friends back home know him as someone who often challenges them to visit the university to take in the spirit and hospitality, characteristics he says can't be found at any other institution in the state.
"Without the students, faculty and staff, this university would be nothing but bricks and mortar," he says. "When you talk about Texas Tech being great, you're definitely talking about the people who make it that way."
Last year, the Legislature passed a bill, and the Governor signed it into law allowing the appointment of a nonvoting student regent to the governing board of each public university system. The student regent will rotate between Texas Tech University and Texas Tech University Health Sciences Center and will serve a one-year term.
"This is a great opportunity for students from across the Texas Tech University System to be represented on the Board of Regents," says Nathan Nash, president of the Texas Tech Student Government Association. "For Chad to be selected as the first student regent in Texas Tech's history speaks very highly of his qualifications."