Official Colors
Primary Palette
Texas Tech Red and Texas Tech Black are our official colors and the primary palette we use to represent Texas Tech University. They can be found on both official communications such as business cards, letterhead and presentations, as well as in a broad range of marketing materials. Red and black should dominate all Texas Tech University endorsed identities such as logos, marks or promotional graphics.
On collateral materials, event banners and presentations we often employ Texas Tech Red as the dominant background on which to communicate our key messages and supporting imagery. You'll see examples of this approach in our presentation templates, in print collateral and event banners where Texas Tech Red acts as a foundation for the Texas Tech Black Signature Bar and the Official Seal or Academic Signature of Texas Tech University.
Texas Tech Red is a specially formulated color mixture and officially approved ink specifications must be obtained from service representatives. When working with color swatches within your design and production applications use PANTONE® 485 C/U for spot designations. Indications must be provided to all printers that Texas Tech Red will replace those spot color designations in your specifications. CMYK, RGB and hexadecimal color values are listed below that best approximate our special Texas Tech Red. When printing process colors, we add percentages of cyan and magenta to the process black to create a richer, deeper black. We call that Texas Tech Black.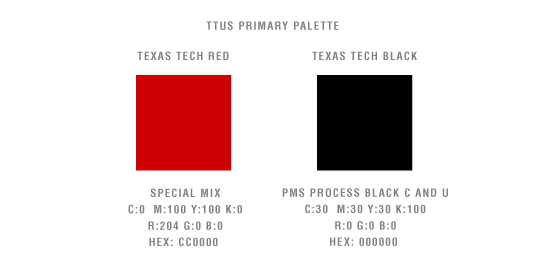 Secondary Colors
Our secondary palette plays a limited but important role in our marketing and communication materials. It provides a complementary set of colors for charts, graphs and diagrams where a range of hues helps to classify and differentiate information for the reader. We've selected colors that reflect the warmth found in our distinctive campus architecture, our regional landscape and in our community. Percentages of each may be used to extend the number of colors and values required to separate different information sets in charts, graphs and diagrams.
Our secondary palette also includes a light and dark gray to support a range of graphic and typography treatments. The secondary palette should never replace or dominate our primary colors of red and black, although grays may be employed as large color fields within black-and-white executions.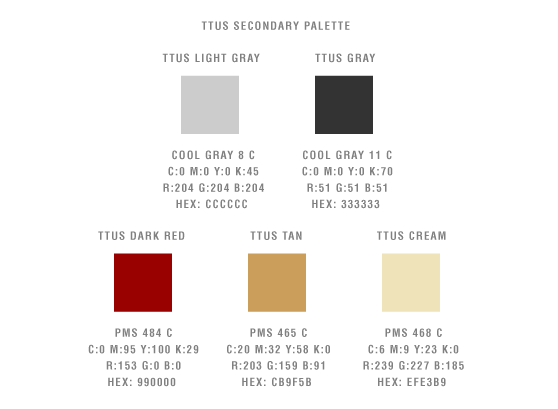 *PANTONE® is a registered trademark of Pantone, Inc.